Composition of Superalloys. Inconel 718 is composed of 55% nickel, 21% chromium, 6% iron, and small amounts of manganese, carbon, and copper.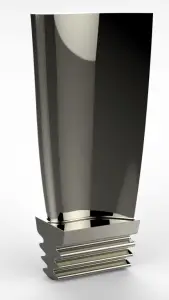 Superalloys, or high-performance alloys, are non-ferrous alloys that exhibit outstanding strength and surface stability at high temperatures. Their ability to operate safely at a high fraction of their melting point (up to 85% of their melting points (Tm) expressed in degrees Kelvin, 0.85) is their key characteristics. Superalloys are generally used at temperatures above 540 °C (1000 °F), as at these temperatures ordinary steel and titanium alloys are losing their strengths, also corrosion is common in steels at this temperature. At high temperatures, superalloys retain mechanical strength, resistance to thermal creep deformation, surface stability, and resistance to corrosion or oxidation. Some nickel-based superalloys can withstand temperatures beyond 1200°C, depending on the composition of the alloy.​ Superalloys are often cast as a single crystal, while grain boundaries may provide strength, they decrease creep resistance.
Types of Superalloys
There are three main categories that are jointly called superalloys as mentioned  below. they   posses high level of temperature insensitivity or stability and are widely used as base materials for high temperature applications.
Nickel-based Superalloys. Nickel-based superalloys currently constitute over 50% of the weight of advanced aircraft engines. Nickel-base superalloys include solid-solution-strengthened alloys and age-hardenable alloys. Age-hardenable alloys consist of an austenitic (fcc) matrix dispersed with coherent precipitation of an Ni3(Al,Ti) intermetallic with an fcc structure. Ni-based superalloys are alloys with nickel as the primary alloying element are preferred as blade material in the previously discussed applications, rather than Co- or Fe-based superalloys. What is significant for Ni-based superalloys is their high strength, creep and corrosion resistance at high temperatures. It is common to cast turbine blades in directionally solidified form or single-crystal form. Single-crystal blades are mainly used in the first row in the turbine stage.
Iron – Nickel-based Superalloys. Fe-based superalloys have showed creep and oxidation resistance similar to that of Ni-based superalloys, while being far less expensive to produce. The most important class of this group are those alloys that are strengthened by an intermetallic compound precipitation in an FCC matrix.
Cobalt-based Superalloys. This class of alloys is relatively new. In 2006, Sato et al. discovered a new phase in the Co–Al–W system. Unlike other superalloys, cobalt-base alloys are characterized by a solid-solution-strengthened austenitic (fcc) matrix in which a small quantity of carbide is distributed. While not used commercially to the extent of Ni-based superalloys, alloying elements found in research Co-based alloys are C, Cr, W, Ni, Ti, Al, Ir, and Ta. They possess better weldability and thermal fatigue resistance as compared to nickel based alloy. Moreover, they have excellent corrosion resistance at high temperatures (980-1100 °C) because of their higher chromium contents.
These alloys are generally used at temperature above 450°C, as at these temperatures ordinary steel and titanium alloys are losing their strengths, also corrosion is common in steels at this temperature.
Example – Inconel 718 – Nickel-based Superalloy
In general, Inconel is a registered trademark of Special Metals for a family of austenitic nickel-chromium-based superalloys. Inconel 718 is a nickel-based superalloy that possesses high strength properties and resistance to elevated temperatures. It also demonstrates remarkable protection against corrosion and oxidation. Inconel's high temperature strength is developed by solid solution strengthening or precipitation hardening, depending on the alloy. Inconel 718 is composed of 55% nickel, 21% chromium, 6% iron, and small amounts of manganese, carbon, and copper.
Common uses of superalloys are in the aerospace and some other high-technology industries. With the combination of corrosion resistance and material strength in the face of extreme heat, this kind of superalloy works well in the nuclear industry. Some nuclear plants use nickel-based superalloys for the reactor core, control rod, and similar parts.​ In nuclear industry, especially low-cobalt superalloys (due to possible activation of cobalt-59) are used. Some of structural parts of nuclear fuel assemblies, such as top and bottom nozzle, may be produced from superalloys such as Inconel. Spacing grids are usually made of a corrosion-resistant material with low absorption cross section for thermal neutrons, usually zirconium alloy (~ 0.18 × 10–24 cm2). First and last spacing grid may be also made of low-cobalt Inconel, which is a superalloy well suited for service in extreme environments subjected to pressure and heat.

We hope, this article, Composition of Superalloys, helps you. If so, give us a like in the sidebar. Main purpose of this website is to help the public to learn some interesting and important information about materials and their properties.