Magnesium alloys names are often given by two letters following by two numbers. Letters tell main alloying elements (A = aluminium, Z = zinc, M = manganese, S = silicon). Numbers indicate respective nominal compositions of main alloying elements. Types of Magnesium Alloys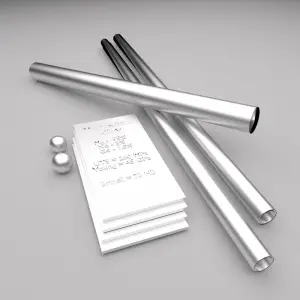 Magnesium alloys are mixtures of magnesium and other alloying metal, usually aluminium, zinc, silicon, manganese, copper and zirconium. Since the most outstanding characteristic of magnesium is its density, 1.7 g/cm3, its alloys are used where light weight is an important consideration (e.g., in aircraft components).  Magnesium has the lowest melting point (923 K (1,202 °F)) of all the alkaline earth metals. Pure magnesium has an HCP crystal structure, is relatively soft, and has a low elastic modulus: 45 GPa. Magnesium alloys have also a hexagonal lattice structure, which affects the fundamental properties of these alloys.  At room temperature, magnesium and its alloys are difficult to perform cold working due to the fact plastic deformation of the hexagonal lattice is more complicated than in cubic latticed metals like aluminium, copper and steel. Therefore, magnesium alloys are typically used as cast alloys. Despite the reactive nature of the pure magnesium powder, magnesium metal and its alloys have good resistance to corrosion.
Aluminium is the most common alloying element. Aluminium, zinc, zirconium, and thorium promote precipitation hardening: manganese improves corrosion resistance; and tin improves castability.
We must add,  pure magnesium is highly flammable, especially when powdered or shaved into thin strips, though it is difficult to ignite in mass or bulk. It produces intense, bright, white light when it burns. Flame temperatures of magnesium and some magnesium alloys can reach 3,100°C. Burning or molten magnesium reacts violently with water. Once ignited, such fires are difficult to extinguish, because combustion continues in nitrogen (forming magnesium nitride), carbon dioxide (forming magnesium oxide and carbon), and water. Burning magnesium can be quenched by using a Class D dry chemical fire extinguisher. Its flammability is greatly reduced by a small amount of calcium in the alloy.
Types of Magnesium Alloys
Magnesium alloys names are often given by two letters following by two numbers. Letters tell main alloying elements (A = aluminium, Z = zinc, M = manganese, S = silicon). Numbers indicate respective nominal compositions of main alloying elements. For example, alloy AZ81 is magnesium alloy with roughly 8% of aluminium and 1% of zinc.
Magnox Alloy – AL80
Magnox, whose name is an abbreviation for "magnesium non-oxidizing",  is an  high magnesium alloy mainly of magnesium with small amounts of aluminium and other metals. This alloy, designated as alloy AL80, is used as a clad for nuclear fuel employed in the UK gas-cooled, graphite moderated power station reactors of the same name. The claddings from magnesium alloys of type Magnox are well compatible with metallic uranium at temperatures up to 500°C and they are highly resistant to oxidation.
This material has the advantage of a low neutron capture cross section, but has two major disadvantages:
It limits the maximum temperature (to about 415°C), and hence the thermal efficiency, of the plant.
The disadvantage of these alloys is a high tendency to grain growth, loss of strength properties, oxidation in the presence of water steam.
The magnox alloy Al80 has a composition of 0.8% aluminium and 0.004% beryllium.
As was written, magnox alloy AL80 was used primarily as the fuel clad in Magnox type reactors. On 30 December 2015 Wylfa Unit 1, the world's last operating Magnox reactor was closed. As the Magnox design was being rolled out, work was already underway on the Advanced Gas-cooled Reactor (AGR) with the explicit intention of making the system more economical. The AGR design retained the Magnox's graphite moderator and carbon dioxide coolant but increased the cooling gas operating temperature to improve steam conditions. This increased temperature (about 650 °C (1,202 °F)) would greatly improve the thermal efficiency of the power plant. But this was too hot for the magnox alloy, and the AGR originally intended to use a new beryllium-based cladding, but this proved too brittle. This was replaced by a stainless steel cladding. However, steel has a higher neutron cross section and this change required the use of slightly enriched uranium fuel to compensate higher absorption cross-sections.
Elektron 21 – UNS M12310
In general, Elektron is the registered trademark of a wide range of magnesium alloys manufactured by a British company Magnesium Elektron Limited. Elektron 21, designated by UNS M12310, is one of alloys with excellent corrosion resistance and castability. Cast products possess a fine-grained microstructure and pressure tightness. This alloy can be easily machined. Application include motorsports and aerospace, since it possess high strength, light weight and it has excellent vibration damping characteristics.
We hope, this article, Types of Magnesium Alloys, helps you. If so, give us a like in the sidebar. Main purpose of this website is to help the public to learn some interesting and important information about materials and their properties.