In PWRs, chemical shim (boric acid – H3BO3) is used to compensate an excess of reactivity of a reactor core. Chemical shim is boric acid dissolved in the coolant. Material Properties
By
chemical shim
, we mean that
boric acid
is dissolved in the coolant/
moderator
. Boric acid (molecular formula:
H3BO3
), is a white powder that is soluble in water. In
pressurized water reactors
, chemical shim (boric acid) is used to compensate an excess of reactivity of
reactor core
along the
fuel
burnup (long term reactivity control). At the beginning of specific fuel cycle concentration of boric acid is highest (see picture). At the end of this cycle concentration of boric acid is almost zero and a reactor must be refueled.
In certain cases also fine power changes can be controlled by chemical shim. If it is desired to increase power, then the boric acid concentration must be diluted, removing 10B from the reactor core and decreasing its poisoning effect. When compared with burnable absorbers (long term reactivity control) or with control rods (rapid reactivity control) the boric acid avoids the unevenness of neutron-flux density in the reactor core, because it is dissolved homogeneously in the coolant in entire reactor core. On the other hand high concentrations of boric acid may lead to positive moderator temperature coefficient and that is undesirable. In this case more burnable absorbers must be used.
Moreover this method is slow in controlling reactivity. Normally, it takes several minutes to change the concentration (dilute or borate) of the boric acid in the primary loop. For rapid changes of reactivity control rods must be used.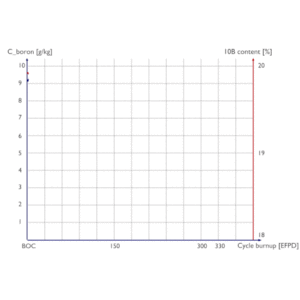 We hope, this article, Boric Acid – Chemical Shim, helps you. If so, give us a like in the sidebar. Main purpose of this website is to help the public to learn some interesting and important information about materials and their properties.