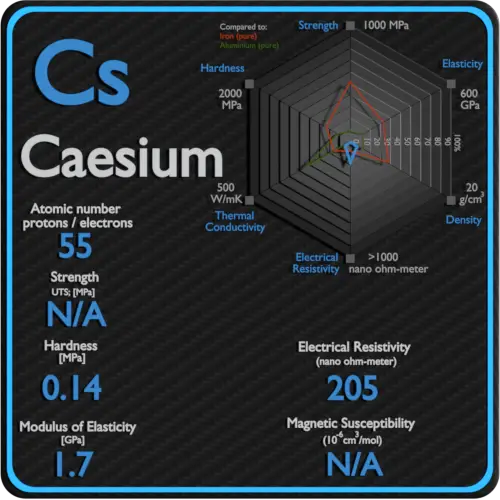 About Caesium
Caesium is a soft, silvery-gold alkali metal with a melting point of 28.5 °C, which makes it one of only five elemental metals that are liquid at or near room temperature. Caesium has physical and chemical properties similar to those of rubidium and potassium.
Electrical and Magnetic Properties of Caesium
Electrical property refers to the response of a material to an applied electric field. One of the principal characteristics of materials is their ability (or lack of ability) to conduct electrical current. Indeed, materials are classified by this property, that is, they are divided into conductors, semiconductors, and nonconductors.
See also: Electrical Properties
Magnetic property refers to the response of a material to an applied magnetic field. The macroscopic magnetic properties of a material are a consequence of interactions between an external magnetic field and the magnetic dipole moments of the constituent atoms. Different materials react to the application of magnetic field differently.
See also: Magnetic Properties
Electrical Resistivity of Caesium
Electrical resistivity of Caesium is 205 nΩ⋅m.
Electrical conductivity and its converse, electrical resistivity, is a fundamental property of a material that quantifies how Caesium conducts the flow of electric current. Electrical conductivity or specific conductance is the reciprocal of electrical resistivity.
Magnetic Susceptibility of Caesium
Magnetic susceptibility of Caesium is N/A.
In electromagnetism, magnetic susceptibility is the measure of the magnetization of a substance. Magnetic susceptibility is a dimensionless proportionality factor that indicates the degree of magnetization of Caesium in response to an applied magnetic field.
Summary
| | |
| --- | --- |
| Element | Caesium |
| Atomic number | 55 |
| Element category | Alkali Metal |
| Phase at STP | Solid |
| Electrical resistivity [nanoOhm meter] | 205 |
| Magnetic Susceptibility | N/A |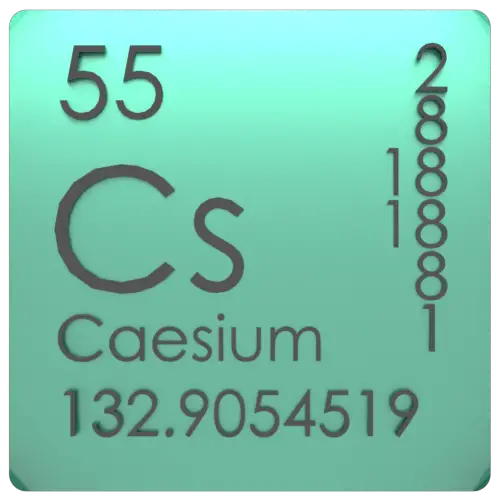 Source: www.luciteria.com