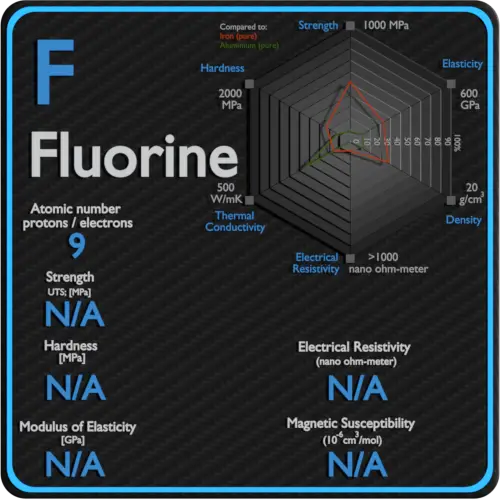 About Fluorine
Fluorine is the lightest halogen and exists as a highly toxic pale yellow diatomic gas at standard conditions. As the most electronegative element, it is extremely reactive: almost all other elements, including some noble gases, form compounds with fluorine.
Electrical and Magnetic Properties of Fluorine
Electrical property refers to the response of a material to an applied electric field. One of the principal characteristics of materials is their ability (or lack of ability) to conduct electrical current. Indeed, materials are classified by this property, that is, they are divided into conductors, semiconductors, and nonconductors.
See also: Electrical Properties
Magnetic property refers to the response of a material to an applied magnetic field. The macroscopic magnetic properties of a material are a consequence of interactions between an external magnetic field and the magnetic dipole moments of the constituent atoms. Different materials react to the application of magnetic field differently.
See also: Magnetic Properties
Electrical Resistivity of Fluorine
Electrical resistivity of Fluorine is — nΩ⋅m.
Electrical conductivity and its converse, electrical resistivity, is a fundamental property of a material that quantifies how Fluorine conducts the flow of electric current. Electrical conductivity or specific conductance is the reciprocal of electrical resistivity.
Magnetic Susceptibility of Fluorine
Magnetic susceptibility of Fluorine is N/A.
In electromagnetism, magnetic susceptibility is the measure of the magnetization of a substance. Magnetic susceptibility is a dimensionless proportionality factor that indicates the degree of magnetization of Fluorine in response to an applied magnetic field.
Summary
| | |
| --- | --- |
| Element | Fluorine |
| Atomic number | 9 |
| Element category | Halogen |
| Phase at STP | Gas |
| Electrical resistivity [nanoOhm meter] | — |
| Magnetic Susceptibility | N/A |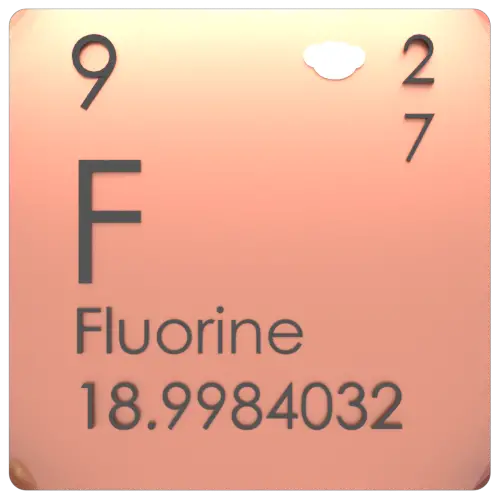 Source: www.luciteria.com