In thermodynamics, the Helmholtz free energy is a thermodynamic potential that is defined as the internal energy minus the product of the temperature times the entropy. Material Properties
Helmholtz Free Energy
In thermodynamics, the Helmholtz free energy is a thermodynamic potential that is defined as the internal energy of the system minus the product of the temperature times the entropy of the system. it measures the "useful" work obtainable from a closed thermodynamic system at a constant volume and pressure.The Helmhotz free energy is defined as: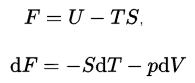 The internal energy, U, has an exact physical meaning, it is the sum of all the kinetic and potential energies of all the particles in the system. The second term is the amount of spontaneous energy transfer, TS, where S is the final entropy of the system. For a constant temperature process the Helmholtz free energy gives all the reversible work. When a physicists say "free energy" without indicating Helmholtz or Gibbs, they usually means Helmholtz free energy, on the other hand, when a chemists say "free energy" they almost always means Gibbs free energy.
We hope, this article, Helmholtz Free Energy, helps you. If so, give us a like in the sidebar. Main purpose of this website is to help the public to learn some interesting and important information about materials and their properties.