The standard SI unit of density is kilograms per cubic meter (kg/m3). The Standard English unit of density is pounds mass per cubic foot (lbm/ft3). Material Properties
What is Density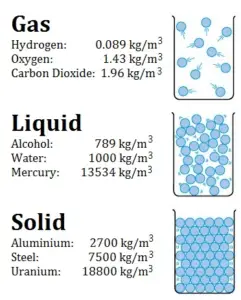 Density is defined as the mass per unit volume. It is an intensive property, which is mathematically defined as mass divided by volume:
ρ = m/V
In words, the density (ρ) of a substance is the total mass (m) of that substance divided by the total volume (V) occupied by that substance. The standard SI unit is kilograms per cubic meter (kg/m3). The Standard English unit is pounds mass per cubic foot (lbm/ft3). The density (ρ) of a substance is the reciprocal of its specific volume (ν).
ρ = m/V = 1/ρ
Specific volume is an intensive variable, whereas volume is an extensive variable. The standard unit for specific volume in the SI system is cubic meters per kilogram (m3/kg). The standard unit in the English system is cubic feet per pound mass (ft3/lbm).
We hope, this article, Unit of Density – Units of Specific Volume, helps you. If so, give us a like in the sidebar. Main purpose of this website is to help the public to learn some interesting and important information about materials and their properties.