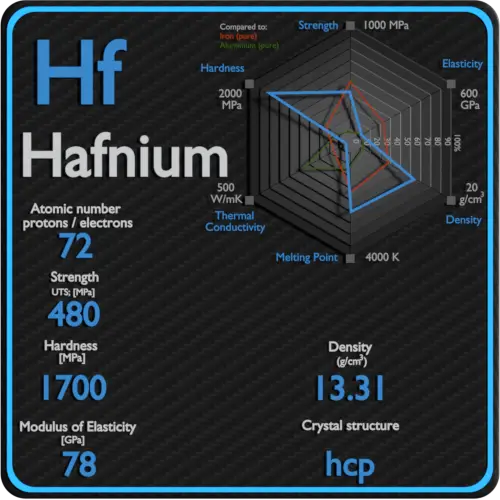 About Hafnium
Hafnium is a lustrous, silvery gray, tetravalent transition metal, hafnium chemically resembles zirconium and is found in many zirconium minerals. Hafnium's large neutron capture cross-section makes it a good material for neutron absorption in control rods in nuclear power plants, but at the same time requires that it be removed from the neutron-transparent corrosion-resistant zirconium alloys used in nuclear reactors.
Strength of Hafnium
In mechanics of materials, the strength of a material is its ability to withstand an applied load without failure or plastic deformation. Strength of materials basically considers the relationship between the external loads applied to a material and the resulting deformation or change in material dimensions. In designing structures and machines, it is important to consider these factors, in order that the material selected will have adequate strength to resist applied loads or forces and retain its original shape. Strength of a material is its ability to withstand this applied load without failure or plastic deformation.
For tensile stress, the capacity of a material or structure to withstand loads tending to elongate is known as ultimate tensile strength (UTS). Yield strength or yield stress is the material property defined as the stress at which a material begins to deform plastically whereas yield point is the point where nonlinear (elastic + plastic) deformation begins.
Ultimate Tensile Strength of Hafnium
Ultimate tensile strength of Hafnium is 480 MPa.
Yield Strength of Hafnium
Yield strength of Hafnium is 125 MPa.
Modulus of Elasticity of Hafnium
The Young's modulus of elasticity of Hafnium is 125 MPa.
The shear modulus of elasticity of Hafnium is 30 GPa.
The bulk modulus of elasticity of Hafnium is 110 GPa.
Hardness of Hafnium
In materials science, hardness is the ability to withstand surface indentation (localized plastic deformation) and scratching. Brinell hardness test is one of indentation hardness tests, that has been developed for hardness testing. In Brinell tests, a hard, spherical indenter is forced under a specific load into the surface of the metal to be tested.
Brinell hardness of Hafnium is approximately 1700 MPa.
The Vickers hardness test method was developed by Robert L. Smith and George E. Sandland at Vickers Ltd as an alternative to the Brinell method to measure the hardness of materials. The Vickers hardness test method can be also used as a microhardness test method, which is mostly used for small parts, thin sections, or case depth work.
Vickers hardness of Hafnium is approximately 1700 MPa.
Scratch hardness is the measure of how resistant a sample is to permanent plastic deformation due to friction from a sharp object. The most common scale for this qualitative test is Mohs scale, which is used in mineralogy. The Mohs scale of mineral hardness is based on the ability of one natural sample of mineral to scratch another mineral visibly.
Hafnium is has a hardness of approximately 5.5.
Hafnium – Crystal Structure
A possible crystal structure of Hafnium is hexagonal close-packed structure.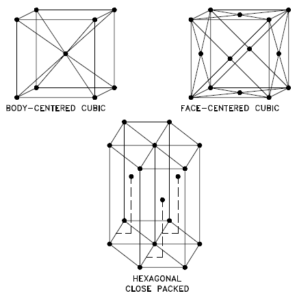 In metals, and in many other solids, the atoms are arranged in regular arrays called crystals. A crystal lattice is a repeating pattern of mathematical points that extends throughout space. The forces of chemical bonding causes this repetition. It is this repeated pattern which control properties like strength, ductility, density, conductivity (property of conducting or transmitting heat, electricity, etc.), and shape. There are 14 general types of such patterns known as Bravais lattices.
Crystal Structure of Hafnium

Summary
| | |
| --- | --- |
| Element | Hafnium |
| Ultimate Tensile Strength | 480 MPa |
| Yield Strength | 125 MPa |
| Young's Modulus of Elasticity | 78 GPa |
| Shear Modulus of Elasticity | 30 GPa |
| Bulk Modulus of Elasticity | 110 GPa |
| Mohs Scale | 5.5 |
| Brinell Hardness | 1700 MPa |
| Vickers Hardness | 1700 MPa |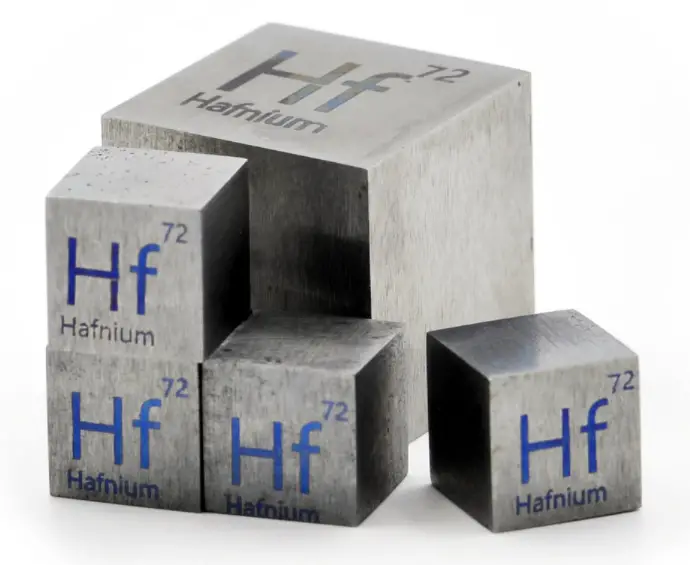 Source: www.luciteria.com