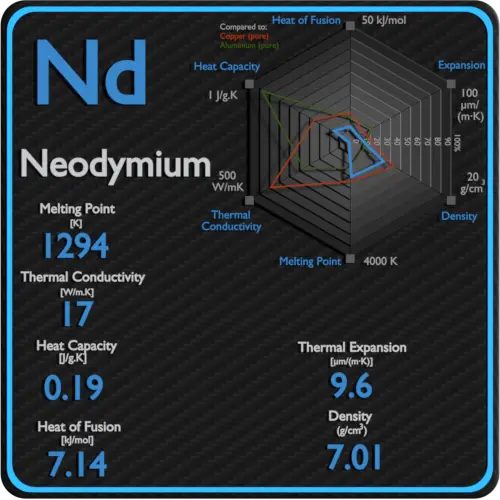 About Neodymium
Neodymium is a soft silvery metal that tarnishes in air. Neodymium is not found naturally in metallic form or unmixed with other lanthanides, and it is usually refined for general use. Although neodymium is classed as a rare earth, it is a fairly common element.
Neodymium – Specific Heat, Latent Heat of Fusion, Latent Heat of Vaporization
Specific heat of Neodymium is 0.19 J/g K.
Heat capacity is an extensive property of matter, meaning it is proportional to the size of the system. Heat capacity C has the unit of energy per degree or energy per kelvin. When expressing the same phenomenon as an intensive property, the heat capacity is divided by the amount of substance, mass, or volume, thus the quantity is independent of the size or extent of the sample.
Latent Heat of Fusion of Neodymium is 7.14 kJ/mol.
Latent Heat of Vaporization of Neodymium is 273 kJ/mol.
Latent heat is the amount of heat added to or removed from a substance to produce a change in phase. This energy breaks down the intermolecular attractive forces, and also must provide the energy necessary to expand the gas (the pΔV work). When latent heat is added, no temperature change occurs. The enthalpy of vaporization is a function of the pressure at which that transformation takes place.
See also: Mechanical Properties of Neodymium
Summary
| | |
| --- | --- |
| Element | Neodymium |
| Specific Heat | 0.19 J/g K |
| Heat of Fusion | 7.14 kJ/mol |
| Heat of Vaporization | 273 kJ/mol |
| Density | 7.01 g/cm3 |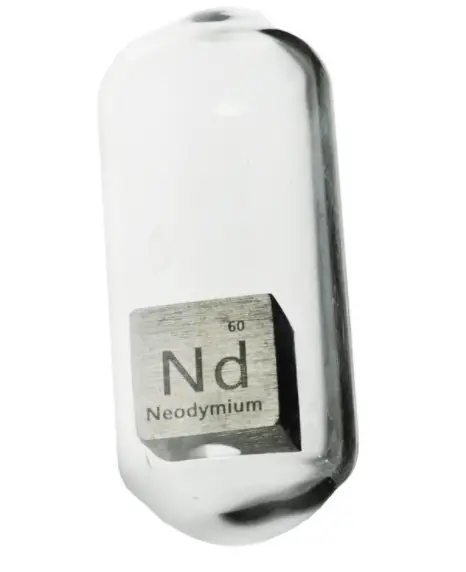 Source: www.luciteria.com