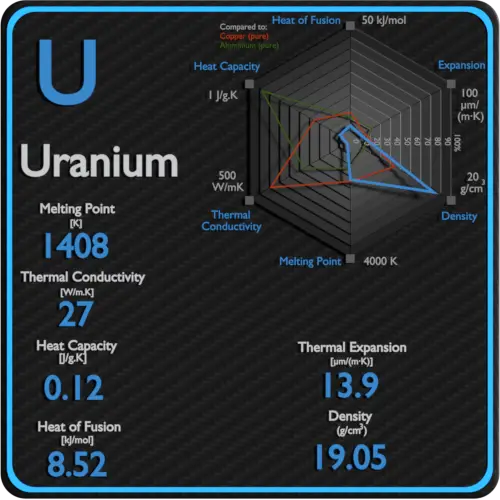 About Uranium
Uranium is a silvery-white metal in the actinide series of the periodic table. Uranium is weakly radioactive because all isotopes of uranium are unstable, with half-lives varying between 159,200 years and 4.5 billion years. Uranium has the highest atomic weight of the primordially occurring elements. Its density is about 70% higher than that of lead, and slightly lower than that of gold or tungsten. Uranium is commonly found at low levels (a few ppm – parts per million) in all rocks, soil, water, plants, and animals (including humans). Uranium occurs also in seawater, and can be recovered from the ocean water. Significant concentrations of uranium occur in some substances such as uraninite (the most common uranium ore), phosphate rock deposits, and other minerals.
Uranium – Specific Heat, Latent Heat of Fusion, Latent Heat of Vaporization
Specific heat of Uranium is 0.12 J/g K.
Heat capacity is an extensive property of matter, meaning it is proportional to the size of the system. Heat capacity C has the unit of energy per degree or energy per kelvin. When expressing the same phenomenon as an intensive property, the heat capacity is divided by the amount of substance, mass, or volume, thus the quantity is independent of the size or extent of the sample.
Latent Heat of Fusion of Uranium is 8.52 kJ/mol.
Latent Heat of Vaporization of Uranium is 417 kJ/mol.
Latent heat is the amount of heat added to or removed from a substance to produce a change in phase. This energy breaks down the intermolecular attractive forces, and also must provide the energy necessary to expand the gas (the pΔV work). When latent heat is added, no temperature change occurs. The enthalpy of vaporization is a function of the pressure at which that transformation takes place.
See also: Mechanical Properties of Uranium
Summary
| | |
| --- | --- |
| Element | Uranium |
| Specific Heat | 0.12 J/g K |
| Heat of Fusion | 8.52 kJ/mol |
| Heat of Vaporization | 417 kJ/mol |
| Density | 19.05 g/cm3 |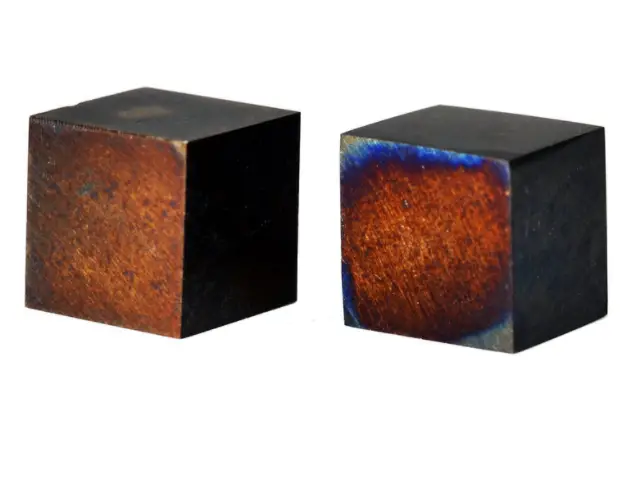 Source: www.luciteria.com