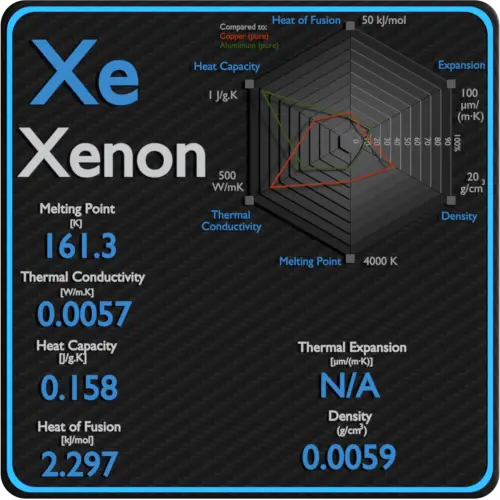 About Xenon
Xenon is a colorless, dense, odorless noble gas found in the Earth's atmosphere in trace amounts.[10] Although generally unreactive, xenon can undergo a few chemical reactions. Xenon was first discovered in 1898 by the Scottish chemist William Ramsay and English chemist Morris Travers. The name xenon for this gas comes from the Greek word ξένον [xenon], neuter singular form of ξένος [xenos], meaning 'foreign(er)', 'strange(r)', or 'guest'. In nuclear industry, especially artificial xenon 135 has a tremendous impact on the operation of a nuclear reactor. For physicists and for reactor operators, it is important to understand the mechanisms that produce and remove xenon from the reactor to predict how the reactor will respond following changes in power level.
Xenon – Specific Heat, Latent Heat of Fusion, Latent Heat of Vaporization
Specific heat of Xenon is 0.158 J/g K.
Heat capacity is an extensive property of matter, meaning it is proportional to the size of the system. Heat capacity C has the unit of energy per degree or energy per kelvin. When expressing the same phenomenon as an intensive property, the heat capacity is divided by the amount of substance, mass, or volume, thus the quantity is independent of the size or extent of the sample.
Latent Heat of Fusion of Xenon is 2.297 kJ/mol.
Latent Heat of Vaporization of Xenon is 12.636 kJ/mol.
Latent heat is the amount of heat added to or removed from a substance to produce a change in phase. This energy breaks down the intermolecular attractive forces, and also must provide the energy necessary to expand the gas (the pΔV work). When latent heat is added, no temperature change occurs. The enthalpy of vaporization is a function of the pressure at which that transformation takes place.
See also: Mechanical Properties of Xenon
Summary
| | |
| --- | --- |
| Element | Xenon |
| Specific Heat | 0.158 J/g K |
| Heat of Fusion | 2.297 kJ/mol |
| Heat of Vaporization | 12.636 kJ/mol |
| Density | 0.0059 g/cm3 |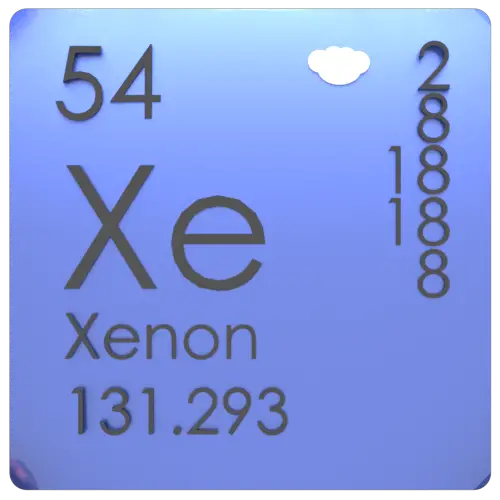 Source: www.luciteria.com