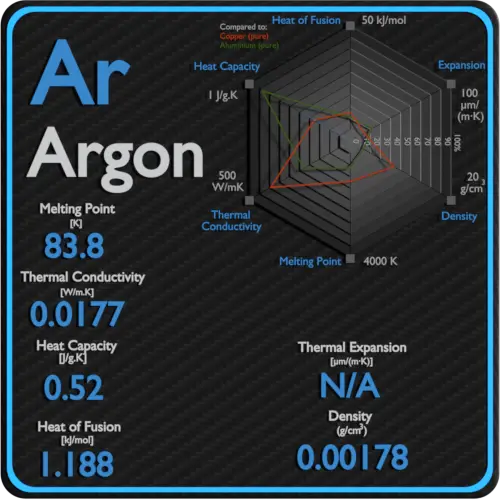 About Argon
Argon is the third-most abundant gas in the Earth's atmosphere, at 0.934% (9340 ppmv). It is more than twice as abundant as water vapor (which averages about 4000 ppmv, but varies greatly), 23 times as abundant as carbon dioxide (400 ppmv), and more than 500 times as abundant as neon (18 ppmv). Argon is mostly used as an inert shielding gas in welding and other high-temperature industrial processes where ordinarily unreactive substances become reactive; for example, an argon atmosphere is used in graphite electric furnaces to prevent the graphite from burning.
Thermal Properties of Argon
Argon – Melting Point and Boiling Point
Melting point of Argon is -189.2°C.
Boiling point of Argon is -185.7°C.
Note that, these points are associated with the standard atmospheric pressure.
Argon – Thermal Conductivity
Thermal conductivity of Argon is 0.01772 W/(m·K).
The heat transfer characteristics of a solid material are measured by a property called the thermal conductivity, k (or λ), measured in W/m.K. It is a measure of a substance's ability to transfer heat through a material by conduction. Note that Fourier's law applies for all matter, regardless of its state (solid, liquid, or gas), therefore, it is also defined for liquids and gases.
Coefficient of Thermal Expansion of Argon
Linear thermal expansion coefficient of Argon is — µm/(m·K)
Thermal expansion is generally the tendency of matter to change its dimensions in response to a change in temperature. It is usually expressed as a fractional change in length or volume per unit temperature change.
See also: Mechanical Properties of Argon
Summary
| | |
| --- | --- |
| Element | Argon |
| Melting Point | -189.2 °C |
| Boiling Point | -185.7 °C |
| Thermal Conductivity | 0.01772 W/mK |
| Thermal Expansion Coefficient | — µm/mK |
| Density | 0.00178 g/cm3 |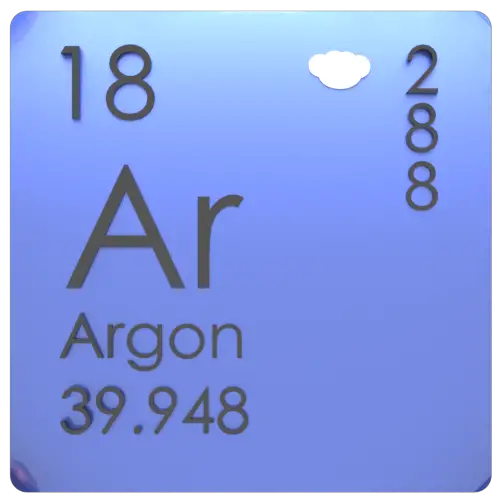 Source: www.luciteria.com