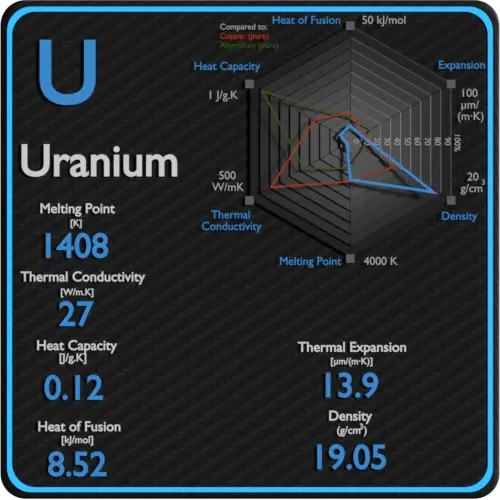 About Uranium
Uranium is a silvery-white metal in the actinide series of the periodic table. Uranium is weakly radioactive because all isotopes of uranium are unstable, with half-lives varying between 159,200 years and 4.5 billion years. Uranium has the highest atomic weight of the primordially occurring elements. Its density is about 70% higher than that of lead, and slightly lower than that of gold or tungsten. Uranium is commonly found at low levels (a few ppm – parts per million) in all rocks, soil, water, plants, and animals (including humans). Uranium occurs also in seawater, and can be recovered from the ocean water. Significant concentrations of uranium occur in some substances such as uraninite (the most common uranium ore), phosphate rock deposits, and other minerals.
Thermal Properties of Uranium
Uranium – Melting Point and Boiling Point
Melting point of Uranium is 1132°C.
Boiling point of Uranium is 4131°C.
Note that, these points are associated with the standard atmospheric pressure.
Uranium – Thermal Conductivity
Thermal conductivity of Uranium is 27 W/(m·K).
The heat transfer characteristics of a solid material are measured by a property called the thermal conductivity, k (or λ), measured in W/m.K. It is a measure of a substance's ability to transfer heat through a material by conduction. Note that Fourier's law applies for all matter, regardless of its state (solid, liquid, or gas), therefore, it is also defined for liquids and gases.
Coefficient of Thermal Expansion of Uranium
Linear thermal expansion coefficient of Uranium is 13.9 µm/(m·K)
Thermal expansion is generally the tendency of matter to change its dimensions in response to a change in temperature. It is usually expressed as a fractional change in length or volume per unit temperature change.
See also: Mechanical Properties of Uranium
Summary
| | |
| --- | --- |
| Element | Uranium |
| Melting Point | 1132 °C |
| Boiling Point | 4131 °C |
| Thermal Conductivity | 27 W/mK |
| Thermal Expansion Coefficient | 13.9 µm/mK |
| Density | 19.05 g/cm3 |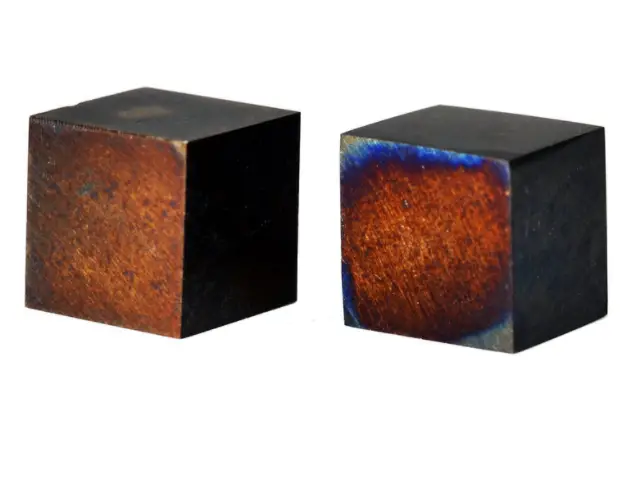 Source: www.luciteria.com