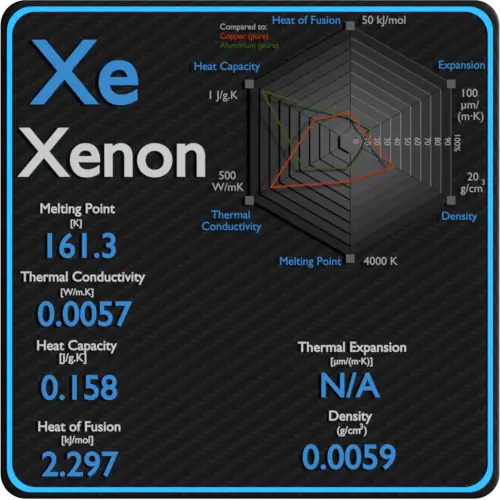 About Xenon
Xenon is a colorless, dense, odorless noble gas found in the Earth's atmosphere in trace amounts.[10] Although generally unreactive, xenon can undergo a few chemical reactions. Xenon was first discovered in 1898 by the Scottish chemist William Ramsay and English chemist Morris Travers. The name xenon for this gas comes from the Greek word ξένον [xenon], neuter singular form of ξένος [xenos], meaning 'foreign(er)', 'strange(r)', or 'guest'. In nuclear industry, especially artificial xenon 135 has a tremendous impact on the operation of a nuclear reactor. For physicists and for reactor operators, it is important to understand the mechanisms that produce and remove xenon from the reactor to predict how the reactor will respond following changes in power level.
Thermal Properties of Xenon
Xenon – Melting Point and Boiling Point
Melting point of Xenon is -111.8°C.
Boiling point of Xenon is -107.1°C.
Note that, these points are associated with the standard atmospheric pressure.
Xenon – Thermal Conductivity
Thermal conductivity of Xenon is 0.00565 W/(m·K).
The heat transfer characteristics of a solid material are measured by a property called the thermal conductivity, k (or λ), measured in W/m.K. It is a measure of a substance's ability to transfer heat through a material by conduction. Note that Fourier's law applies for all matter, regardless of its state (solid, liquid, or gas), therefore, it is also defined for liquids and gases.
Coefficient of Thermal Expansion of Xenon
Linear thermal expansion coefficient of Xenon is — µm/(m·K)
Thermal expansion is generally the tendency of matter to change its dimensions in response to a change in temperature. It is usually expressed as a fractional change in length or volume per unit temperature change.
See also: Mechanical Properties of Xenon
Summary
| | |
| --- | --- |
| Element | Xenon |
| Melting Point | -111.8 °C |
| Boiling Point | -107.1 °C |
| Thermal Conductivity | 0.00565 W/mK |
| Thermal Expansion Coefficient | — µm/mK |
| Density | 0.0059 g/cm3 |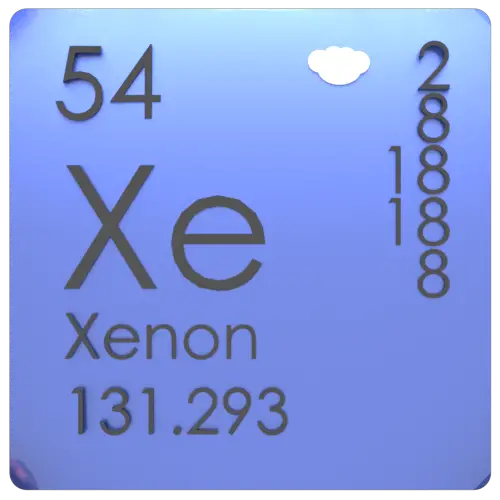 Source: www.luciteria.com