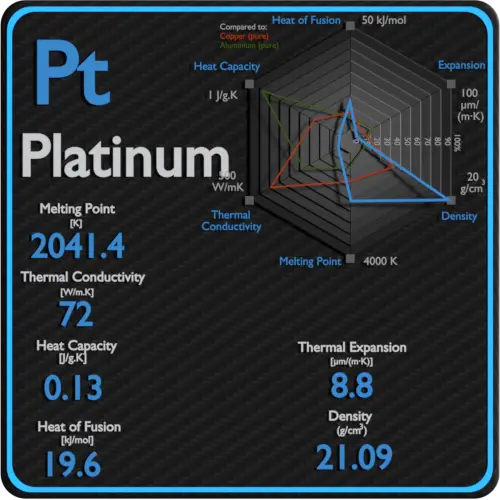 About Platinum
Platinum is a dense, malleable, ductile, highly unreactive, precious, silverish-white transition metal. Platinum is one of the least reactive metals. It has remarkable resistance to corrosion, even at high temperatures, and is therefore considered a noble metal. Platinum is used in catalytic converters, laboratory equipment, electrical contacts and electrodes, platinum resistance thermometers, dentistry equipment, and jewelry.
Thermal Properties of Platinum
Platinum – Melting Point and Boiling Point
Melting point of Platinum is 1772°C.
Boiling point of Platinum is 3827°C.
Note that, these points are associated with the standard atmospheric pressure.
Platinum – Thermal Conductivity
Thermal conductivity of Platinum is 72 W/(m·K).
The heat transfer characteristics of a solid material are measured by a property called the thermal conductivity, k (or λ), measured in W/m.K. It is a measure of a substance's ability to transfer heat through a material by conduction. Note that Fourier's law applies for all matter, regardless of its state (solid, liquid, or gas), therefore, it is also defined for liquids and gases.
Coefficient of Thermal Expansion of Platinum
Linear thermal expansion coefficient of Platinum is 8.8 µm/(m·K)
Thermal expansion is generally the tendency of matter to change its dimensions in response to a change in temperature. It is usually expressed as a fractional change in length or volume per unit temperature change.
See also: Mechanical Properties of Platinum
Summary
| | |
| --- | --- |
| Element | Platinum |
| Melting Point | 1772 °C |
| Boiling Point | 3827 °C |
| Thermal Conductivity | 72 W/mK |
| Thermal Expansion Coefficient | 8.8 µm/mK |
| Density | 21.09 g/cm3 |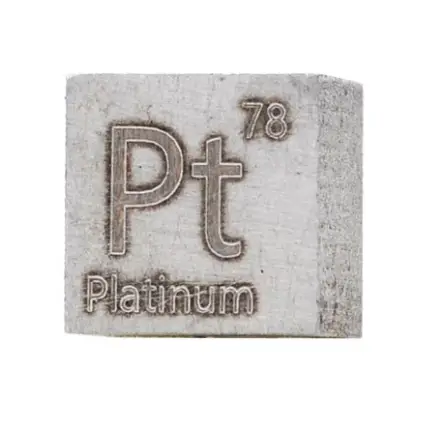 Source: www.luciteria.com