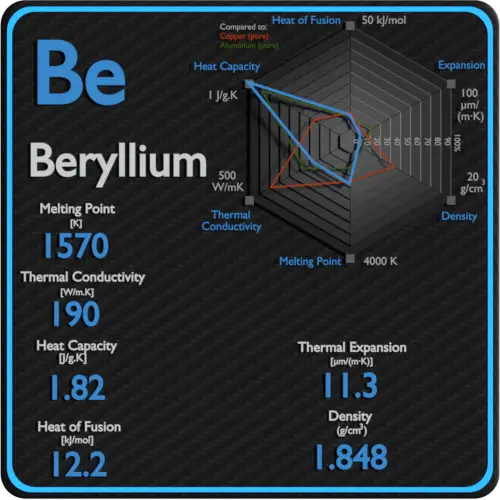 About Beryllium
Beryllium is a hard, grayish metal naturally found in mineral rocks, coal, soil, and volcanic dust. The commercial use of beryllium requires the use of appropriate dust control equipment and industrial controls at all times because of the toxicity of inhaled beryllium-containing dusts that can cause a chronic life-threatening allergic disease in some people called berylliosis. Beryllium has a large scattering cross section for high-energy neutrons, about 6 barns for energies above approximately 10 keV. Therefore, it works as a neutron reflector and neutron moderator, effectively slowing the neutrons to the thermal energy. Since berylium has very low threshold energy for neutron emission, it can be used as a neutron source in nuclear reactors. The Sb-Be source is based on (γ,n) reaction (i.e. it emits photoneutrons).
Thermal Properties of Beryllium
Beryllium – Melting Point and Boiling Point
Melting point of Beryllium is 1278°C.
Boiling point of Beryllium is 2469°C.
Note that, these points are associated with the standard atmospheric pressure.
Beryllium – Thermal Conductivity
Thermal conductivity of Beryllium is 200 W/(m·K).
The heat transfer characteristics of a solid material are measured by a property called the thermal conductivity, k (or λ), measured in W/m.K. It is a measure of a substance's ability to transfer heat through a material by conduction. Note that Fourier's law applies for all matter, regardless of its state (solid, liquid, or gas), therefore, it is also defined for liquids and gases.
Coefficient of Thermal Expansion of Beryllium
Linear thermal expansion coefficient of Beryllium is 11.3 µm/(m·K)
Thermal expansion is generally the tendency of matter to change its dimensions in response to a change in temperature. It is usually expressed as a fractional change in length or volume per unit temperature change.
See also: Mechanical Properties of Beryllium
Summary
| | |
| --- | --- |
| Element | Beryllium |
| Melting Point | 1278 °C |
| Boiling Point | 2469 °C |
| Thermal Conductivity | 200 W/mK |
| Thermal Expansion Coefficient | 11.3 µm/mK |
| Density | 1.848 g/cm3 |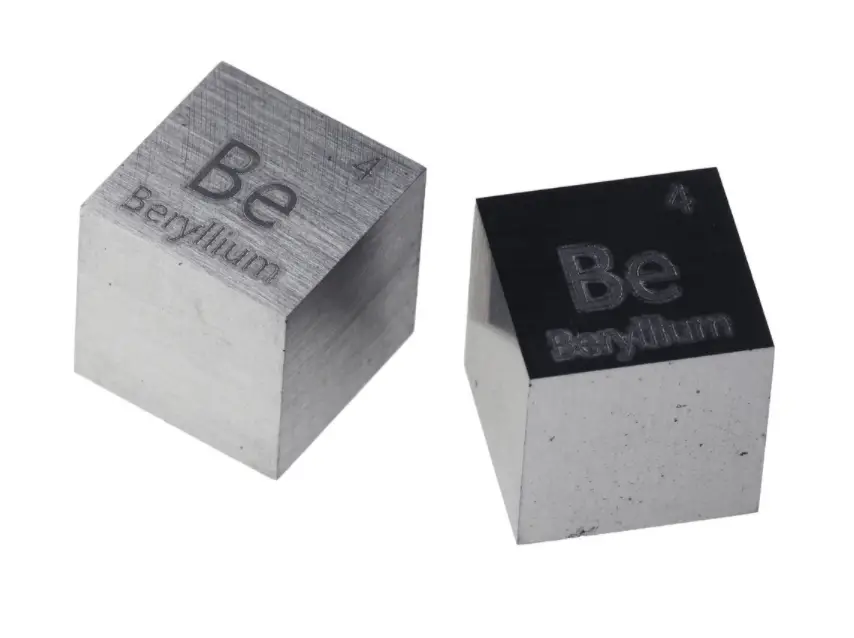 Source: www.luciteria.com