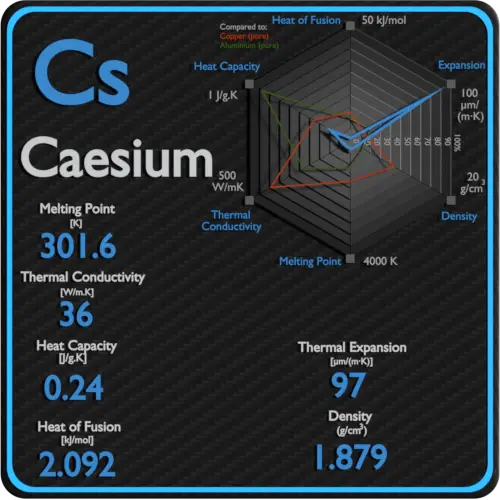 About Caesium
Caesium is a soft, silvery-gold alkali metal with a melting point of 28.5 °C, which makes it one of only five elemental metals that are liquid at or near room temperature. Caesium has physical and chemical properties similar to those of rubidium and potassium.
Thermal Properties of Caesium
Caesium – Melting Point and Boiling Point
Melting point of Caesium is 28.4°C.
Boiling point of Caesium is 669°C.
Note that, these points are associated with the standard atmospheric pressure.
Caesium – Thermal Conductivity
Thermal conductivity of Caesium is 36 W/(m·K).
The heat transfer characteristics of a solid material are measured by a property called the thermal conductivity, k (or λ), measured in W/m.K. It is a measure of a substance's ability to transfer heat through a material by conduction. Note that Fourier's law applies for all matter, regardless of its state (solid, liquid, or gas), therefore, it is also defined for liquids and gases.
Coefficient of Thermal Expansion of Caesium
Linear thermal expansion coefficient of Caesium is 97 µm/(m·K)
Thermal expansion is generally the tendency of matter to change its dimensions in response to a change in temperature. It is usually expressed as a fractional change in length or volume per unit temperature change.
See also: Mechanical Properties of Caesium
Summary
| | |
| --- | --- |
| Element | Caesium |
| Melting Point | 28.4 °C |
| Boiling Point | 669 °C |
| Thermal Conductivity | 36 W/mK |
| Thermal Expansion Coefficient | 97 µm/mK |
| Density | 1.879 g/cm3 |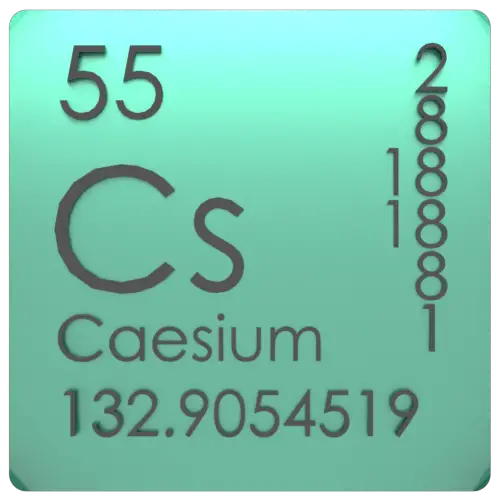 Source: www.luciteria.com