About Sugar
Sugar is colourless, water-soluble compound present in the sap of seed plants and the milk of mammals and making up the simplest group of carbohydrates. The most common sugar is sucrose, a crystalline tabletop and industrial sweetener used in foods and beverages.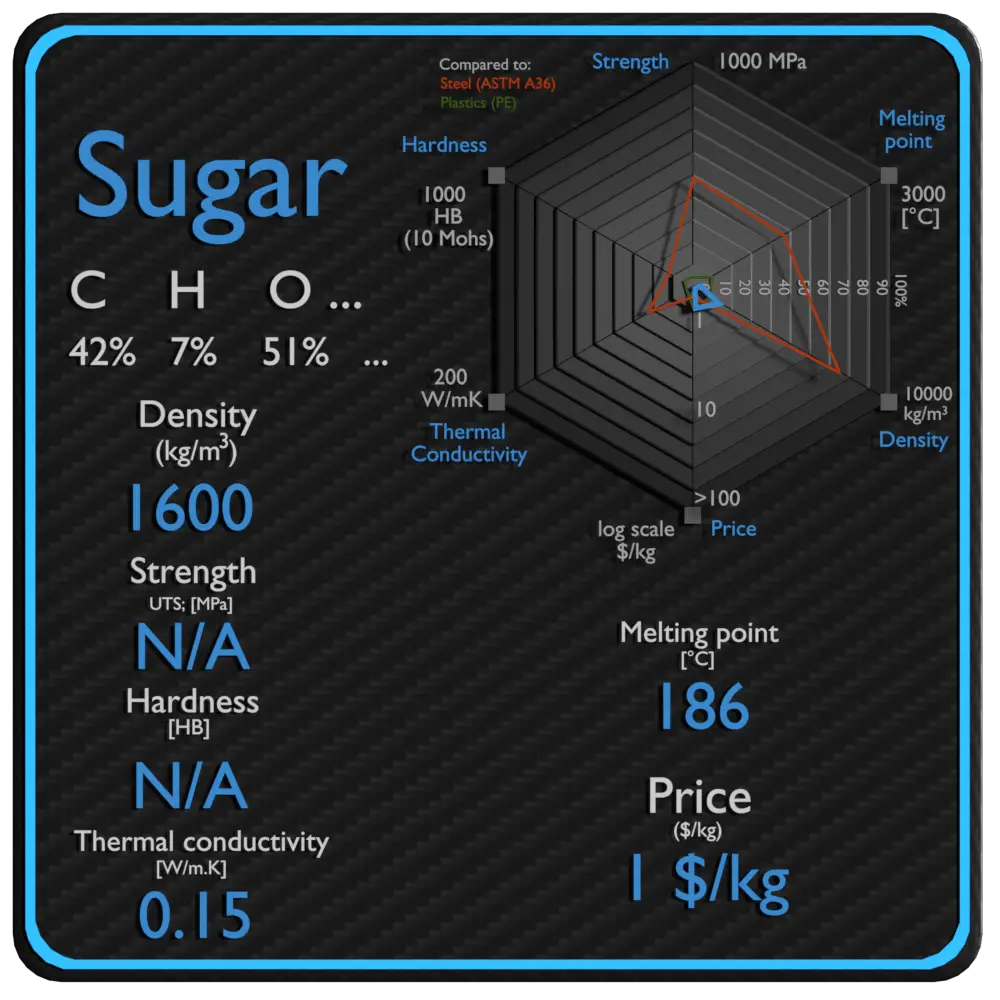 Summary
| | |
| --- | --- |
| Name | Sugar |
| Phase at STP | solid |
| Density | 1600 kg/m3 |
| Ultimate Tensile Strength | N/A |
| Yield Strength | N/A |
| Young's Modulus of Elasticity | N/A |
| Brinell Hardness | N/A |
| Melting Point | 186 °C |
| Thermal Conductivity | 0.15 W/mK |
| Heat Capacity | 1244 J/g K |
| Price | 1 $/kg |
Composition of Sugar
Simple sugars, also called monosaccharides, include glucose, fructose, and galactose. Compound sugars, also called disaccharides or double sugars, are molecules composed of two monosaccharides joined by a glycosidic bond. As a chemical term, "sugar" usually refers to all carbohydrates of the general formula Cn(H2O)n. Sucrose is a disaccharide, or double sugar, being composed of one molecule of glucose linked to one molecule of fructose.
Applications of Sugar
Sucrose is used in prepared foods (e.g. cookies and cakes), is sometimes added to commercially available processed food and beverages, and may be used by people as a sweetener for foods (e.g. toast and cereal) and beverages (e.g. coffee and tea). The average person consumes about 24 kilograms (53 lb) of sugar each year.
Thermal Properties of Sugar
Sugar – Melting Point
Melting point of Sugar is 186 °C.
Note that, these points are associated with the standard atmospheric pressure. In general, melting is a phase change of a substance from the solid to the liquid phase. The melting point of a substance is the temperature at which this phase change occurs. The melting point also defines a condition in which the solid and liquid can exist in equilibrium. For various chemical compounds and alloys, it is difficult to define the melting point, since they are usually a mixture of various chemical elements.
Sugar – Thermal Conductivity
Thermal conductivity of Sugar is 0.15 W/(m·K).
The heat transfer characteristics of a solid material are measured by a property called the thermal conductivity, k (or λ), measured in W/m.K. It is a measure of a substance's ability to transfer heat through a material by conduction. Note that Fourier's law applies for all matter, regardless of its state (solid, liquid, or gas), therefore, it is also defined for liquids and gases.
The thermal conductivity of most liquids and solids varies with temperature. For vapors, it also depends upon pressure. In general:

Most materials are very nearly homogeneous, therefore we can usually write k = k (T). Similar definitions are associated with thermal conductivities in the y- and z-directions (ky, kz), but for an isotropic material the thermal conductivity is independent of the direction of transfer, kx = ky = kz = k.
Sugar – Specific Heat
Specific heat of Sugar is 1244 J/g K.
Specific heat, or specific heat capacity, is a property related to internal energy that is very important in thermodynamics. The intensive properties cv and cp are defined for pure, simple compressible substances as partial derivatives of the internal energy u(T, v) and enthalpy h(T, p), respectively:

where the subscripts v and p denote the variables held fixed during differentiation. The properties cv and cp are referred to as specific heats (or heat capacities) because under certain special conditions they relate the temperature change of a system to the amount of energy added by heat transfer. Their SI units are J/kg K or J/mol K.
Properties and prices of other materials
material-table-in-8k-resolution