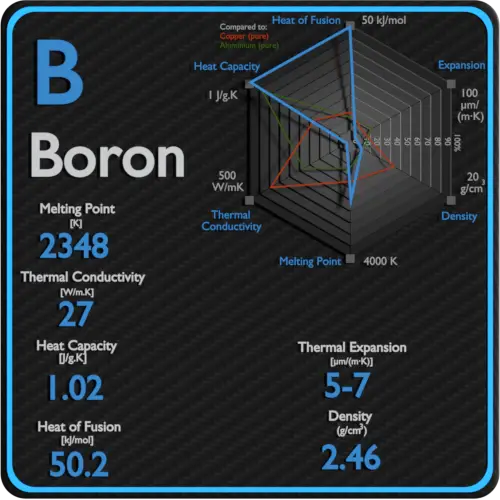 About Boron
Significant concentrations of boron occur on the Earth in compounds known as the borate minerals. There are over 100 different borate minerals, but the most common are: borax, kernite, ulexite etc. Natural boron consists primarily of two stable isotopes, 11B (80.1%) and 10B (19.9%). In nuclear industry boron is commonly used as a neutron absorber due to the high neutron cross-section of isotope 10B. Its (n,alpha) reaction cross-section for thermal neutrons is about 3840 barns (for 0.025 eV neutron). Isotope 11B has absorption cross-section for thermal neutrons about 0.005 barns (for 0.025 eV neutron). Most of (n,alpha) reactions of thermal neutrons are 10B(n,alpha)7Li reactions accompanied by 0.48 MeV gamma emission.
Thermal Properties of Boron
Boron – Melting Point and Boiling Point
Melting point of Boron is 2079°C.
Boiling point of Boron is 3927°C.
Note that, these points are associated with the standard atmospheric pressure.
Boron – Thermal Conductivity
Thermal conductivity of Boron is 27 W/(m·K).
The heat transfer characteristics of a solid material are measured by a property called the thermal conductivity, k (or λ), measured in W/m.K. It is a measure of a substance's ability to transfer heat through a material by conduction. Note that Fourier's law applies for all matter, regardless of its state (solid, liquid, or gas), therefore, it is also defined for liquids and gases.
Coefficient of Thermal Expansion of Boron
Linear thermal expansion coefficient of Boron is 5-7 µm/(m·K)
Thermal expansion is generally the tendency of matter to change its dimensions in response to a change in temperature. It is usually expressed as a fractional change in length or volume per unit temperature change.
See also: Mechanical Properties of Boron
Summary
| | |
| --- | --- |
| Element | Boron |
| Melting Point | 2079 °C |
| Boiling Point | 3927 °C |
| Thermal Conductivity | 27 W/mK |
| Thermal Expansion Coefficient | 5-7 µm/mK |
| Density | 2.46 g/cm3 |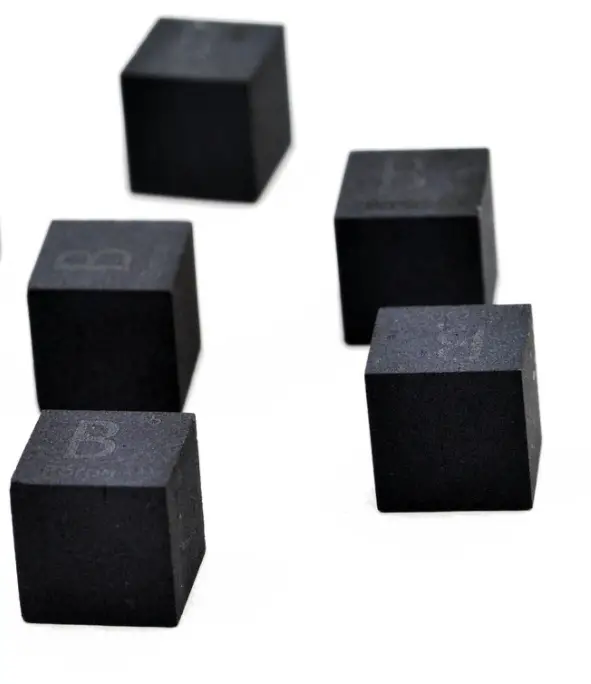 Source: www.luciteria.com