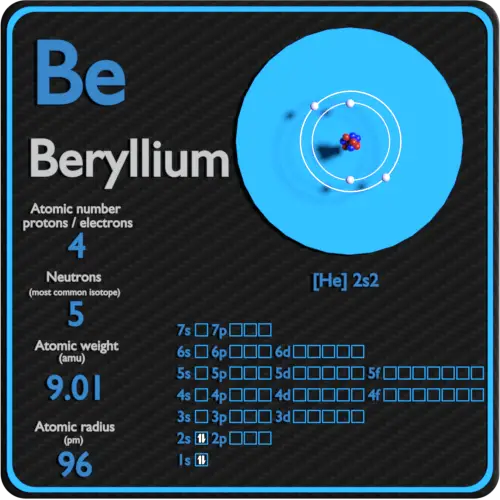 Beryllium is a hard, grayish metal naturally found in mineral rocks, coal, soil, and volcanic dust.
Beryllium has a large scattering cross section for high-energy neutrons, about 6 barns for energies above approximately 10 keV. Therefore, it works as a neutron reflector and neutron moderator, effectively slowing the neutrons to the thermal energy. Since berylium has very low threshold energy for neutron emission, it can be used as a neutron source in nuclear reactors. The Sb-Be source is based on (γ,n) reaction (i.e. it emits photoneutrons). Beryllium content on earth's crust is 2.6 ppm. It is one of the most toxic elements, hence causes damage to human lungs and other organisms. It is found in as many as 30 different minerals.
Beryllium is most commonly extracted from the mineral beryl, which is either sintered using an extraction agent or melted into a soluble mixture.
Protons and Neutrons in Beryllium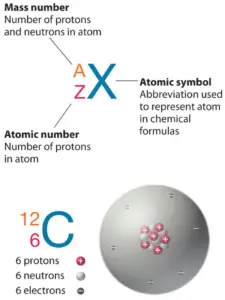 Beryllium is a chemical element with atomic number 4 which means there are 4 protons in its nucleus. Total number of protons in the nucleus is called the atomic number of the atom and is given the symbol Z. The total electrical charge of the nucleus is therefore +Ze, where e (elementary charge) equals to 1,602 x 10-19 coulombs.
The total number of neutrons in the nucleus of an atom is called the neutron number of the atom and is given the symbol N. Neutron number plus atomic number equals atomic mass number: N+Z=A. The difference between the neutron number and the atomic number is known as the neutron excess: D = N – Z = A – 2Z.
For stable elements, there is usually a variety of stable isotopes. Isotopes are nuclides that have the same atomic number and are therefore the same element, but differ in the number of neutrons. Mass numbers of typical isotopes of Beryllium is 9. 
Main Isotopes of Beryllium
Beryllium (4Be) has 12 known isotopes, but only one of these isotopes (9Be) is stable and a primordial nuclide. As such, beryllium is considered a monoisotopic element. Naturally occurring beryllium, save for slight contamination by the cosmogenic radioisotopes, is isotopically pure beryllium-9, which has a nuclear spin of 3/2. Beryllium is unique as being the only monoisotopic element with both an even number of protons and an odd number of neutrons.
Electrons and Electron Configuration
The number of electrons in an electrically-neutral atom is the same as the number of protons in the nucleus. Therefore, the number of electrons in neutral atom of Beryllium is 4. Each electron is influenced by the electric fields produced by the positive nuclear charge and the other (Z – 1) negative electrons in the atom.
Since the number of electrons and their arrangement are responsible for the chemical behavior of atoms, the atomic number identifies the various chemical elements. The configuration of these electrons follows from the principles of quantum mechanics. The number of electrons in each element's electron shells, particularly the outermost valence shell, is the primary factor in determining its chemical bonding behavior. In the periodic table, the elements are listed in order of increasing atomic number Z.
Electron configuration of Beryllium is [He] 2s2.
Possible oxidation states are +1; +2.
Beryllium reacts with acids and with water to form hydrogen gas. It reacts briefly with oxygen in the air to form beryllium oxide (BeO). The beryllium oxide forms a thin skin on the surface of the metal that prevents the metal from reacting further with oxygen.
A beryllium atom has the electronic configuration [He] 2s2. The predominant oxidation state of beryllium is +2; the beryllium atom has lost both of its valence electrons. Lower oxidation states have been found in, for example, bis(carbene) compounds. Beryllium's chemical behavior is largely a result of its small atomic and ionic radii. It thus has very high ionization potentials and strong polarization while bonded to other atoms, which is why all of its compounds are covalent.
Most Common Compound of Beryllium
Copper beryllium, also known as beryllium bronze, is a copper alloy with 0.5—3% beryllium. Copper beryllium is the hardest and strongest of any copper alloy (UTS up to 1,400 MPa), in the fully heat treated and cold worked condition. It combines high strength with non-magnetic and non-sparking qualities and it is similar in mechanical properties to many high strength alloy steels but, compared to steels, it has better corrosion resistance (similar to pure copper).
Summary
| | |
| --- | --- |
| Element | Beryllium |
| Number of protons | 4 |
| Number of neutrons (typical isotopes) | 9 |
| Number of electrons | 4 |
| Electron configuration | [He] 2s2 |
| Oxidation states | +1; +2 |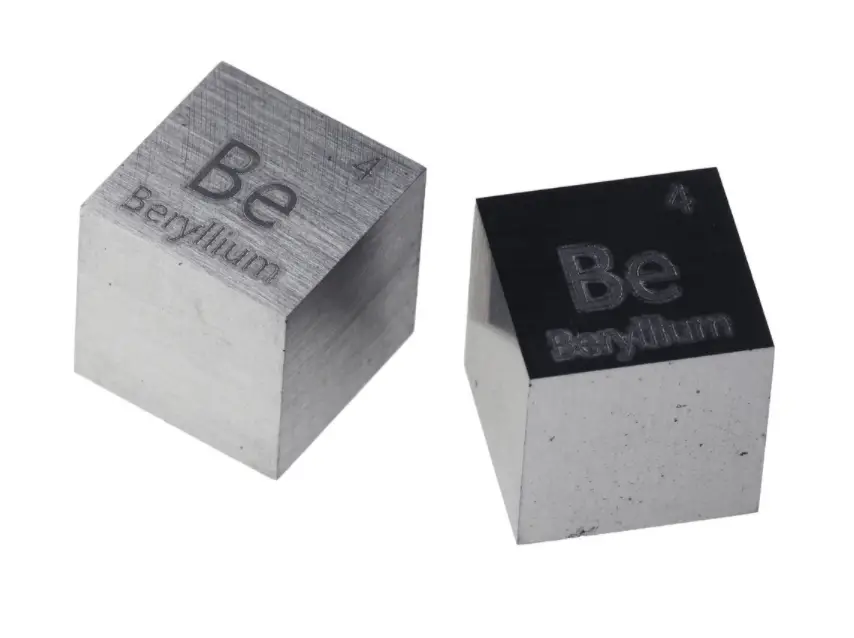 Source: www.luciteria.com