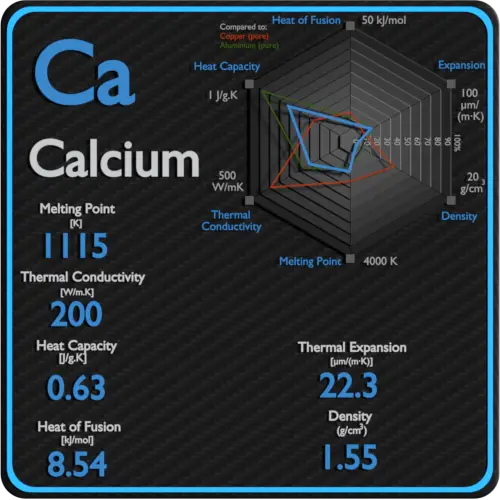 About Calcium
Calcium is an alkaline earth metal, it is a reactive pale yellow metal that forms a dark oxide-nitride layer when exposed to air. Its physical and chemical properties are most similar to its heavier homologues strontium and barium. It is the fifth most abundant element in Earth's crust and the third most abundant metal, after iron and aluminium.
Thermal Properties of Calcium
Calcium – Melting Point and Boiling Point
Melting point of Calcium is 842°C.
Boiling point of Calcium is 1484°C.
Note that, these points are associated with the standard atmospheric pressure.
Calcium – Thermal Conductivity
Thermal conductivity of Calcium is 200 W/(m·K).
The heat transfer characteristics of a solid material are measured by a property called the thermal conductivity, k (or λ), measured in W/m.K. It is a measure of a substance's ability to transfer heat through a material by conduction. Note that Fourier's law applies for all matter, regardless of its state (solid, liquid, or gas), therefore, it is also defined for liquids and gases.
Coefficient of Thermal Expansion of Calcium
Linear thermal expansion coefficient of Calcium is 22.3 µm/(m·K)
Thermal expansion is generally the tendency of matter to change its dimensions in response to a change in temperature. It is usually expressed as a fractional change in length or volume per unit temperature change.
See also: Mechanical Properties of Calcium
Summary
| | |
| --- | --- |
| Element | Calcium |
| Melting Point | 842 °C |
| Boiling Point | 1484 °C |
| Thermal Conductivity | 200 W/mK |
| Thermal Expansion Coefficient | 22.3 µm/mK |
| Density | 1.55 g/cm3 |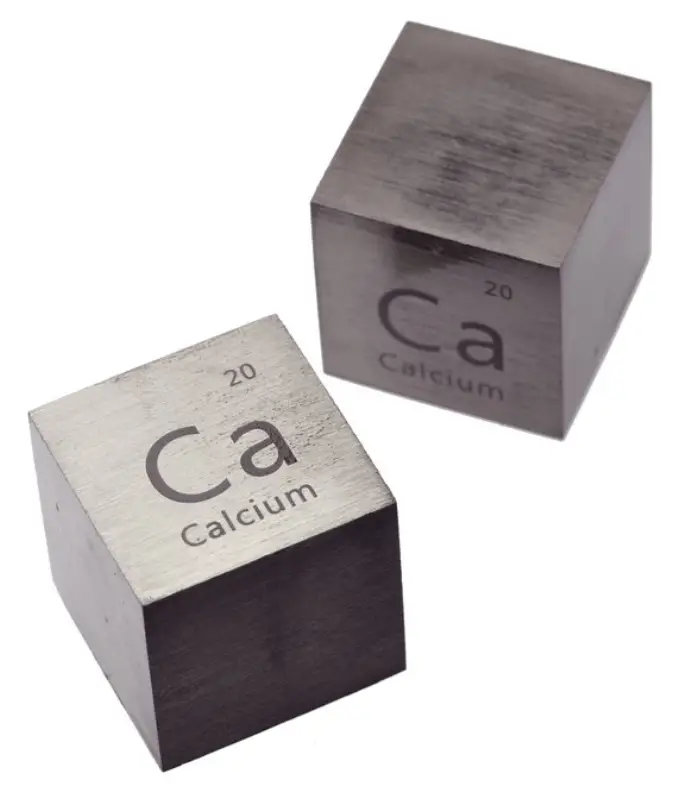 Source: www.luciteria.com