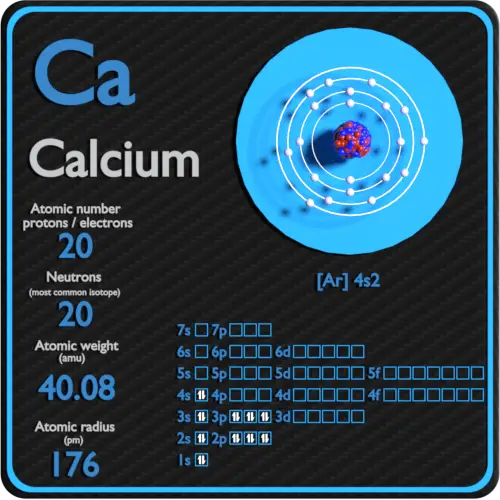 Calcium is an alkaline earth metal, it is a reactive pale yellow metal that forms a dark oxide-nitride layer when exposed to air. Its physical and chemical properties are most similar to its heavier homologues strontium and barium.
The largest use of metallic calcium is in steelmaking, due to its strong chemical affinity for oxygen and sulfur.
Pure calcium metal is now made commercially by heating lime with aluminum.
Protons and Neutrons in Calcium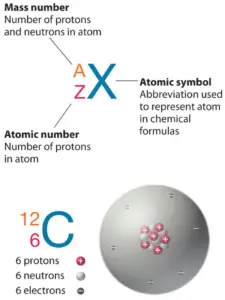 Calcium is a chemical element with atomic number 20 which means there are 20 protons in its nucleus. Total number of protons in the nucleus is called the atomic number of the atom and is given the symbol Z. The total electrical charge of the nucleus is therefore +Ze, where e (elementary charge) equals to 1,602 x 10-19 coulombs.
The total number of neutrons in the nucleus of an atom is called the neutron number of the atom and is given the symbol N. Neutron number plus atomic number equals atomic mass number: N+Z=A. The difference between the neutron number and the atomic number is known as the neutron excess: D = N – Z = A – 2Z.
For stable elements, there is usually a variety of stable isotopes. Isotopes are nuclides that have the same atomic number and are therefore the same element, but differ in the number of neutrons. Mass numbers of typical isotopes of Calcium are 40; 42; 43; 44; 46. 
Main Isotopes of Calcium
Natural calcium is a mixture of five stable isotopes (40Ca, 42Ca, 43Ca, 44Ca, and 46Ca) and one isotope with a half-life so long that it can be considered stable for all practical purposes (48Ca, with a half-life of about 4.3 × 1019 years). Calcium is the first (lightest) element to have six naturally occurring isotopes.
Calcium-40 is composed of 20 protons, 20 neutrons, and 20 electrons. By far the most common isotope of calcium in nature is 40Ca, which makes up 96.941% of all natural calcium. It is produced in the silicon-burning process from fusion of alpha particles and is the heaviest stable nuclide with equal proton and neutron numbers
Calcium-42 is composed of 20 protons, 22 neutrons, and 20 electrons.
Calcium-43 is composed of 20 protons, 23 neutrons, and 20 electrons.
Calcium-44 is composed of 20 protons, 24 neutrons, and 20 electrons.
Calcium-46 is composed of 20 protons, 26 neutrons, and 20 electrons. 46Ca and 48Ca are the first "classically stable" nuclides with a six-neutron or eight-neutron excess respectively. Although extremely neutron-rich for such a light element, 48Ca is very stable because it is a doubly magic nucleus, having 20 protons and 28 neutrons arranged in closed shells.
Stable Isotopes
| | | |
| --- | --- | --- |
| Isotope | Abundance | Neutron Number |
| 40Ca | 96.94% | 20 |
| 42Ca | 0.647% | 22 |
| 43Ca | 0.135% | 23 |
| 44Ca | 2.086% | 24 |
| 46Ca | 0.004% | 26 |
Typical Unstable Isotopes
Electrons and Electron Configuration
The number of electrons in an electrically-neutral atom is the same as the number of protons in the nucleus. Therefore, the number of electrons in neutral atom of Calcium is 20. Each electron is influenced by the electric fields produced by the positive nuclear charge and the other (Z – 1) negative electrons in the atom.
Since the number of electrons and their arrangement are responsible for the chemical behavior of atoms, the atomic number identifies the various chemical elements. The configuration of these electrons follows from the principles of quantum mechanics. The number of electrons in each element's electron shells, particularly the outermost valence shell, is the primary factor in determining its chemical bonding behavior. In the periodic table, the elements are listed in order of increasing atomic number Z.
Electron configuration of Calcium is [Ar] 4s2.
Possible oxidation states are +2.
Like the other elements placed in group 2 of the periodic table, calcium has two valence electrons in the outermost s-orbital, which are very easily lost in chemical reactions to form a dipositive ion with the stable electron configuration of a noble gas, in this case argon. Hence, calcium is almost always divalent in its compounds, which are usually ionic.
Most Common Compound of Calcium
Limestone is a type of carbonate sedimentary rock. It is composed mostly of the minerals calcite and aragonite, which are different crystal forms of calcium carbonate (CaCO3).  The main component of limestone is calcium carbonate (CaCO3), also known as calcite, which is formed by the compaction of the remains of coral animals and plants on the bottoms of oceans. It varies from a soft white substance (chalk) to a very hard substance (marble).
Summary
| | |
| --- | --- |
| Element | Calcium |
| Number of protons | 20 |
| Number of neutrons (typical isotopes) | 40; 42; 43; 44; 46 |
| Number of electrons | 20 |
| Electron configuration | [Ar] 4s2 |
| Oxidation states | +2 |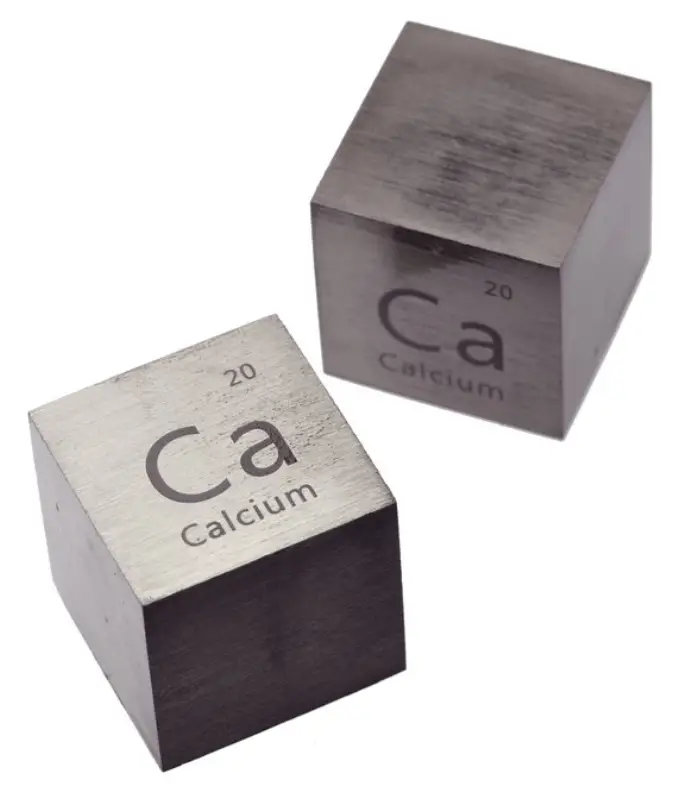 Source: www.luciteria.com