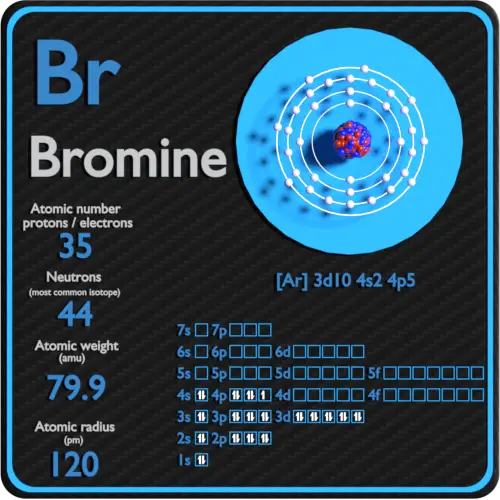 Bromine is the third-lightest halogen, and is a fuming red-brown liquid at room temperature that evaporates readily to form a similarly coloured gas. Its properties are thus intermediate between those of chlorine and iodine.
Protons and Neutrons in Bromine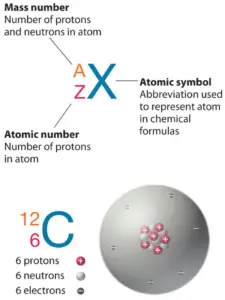 Bromine is a chemical element with atomic number 35 which means there are 35 protons in its nucleus. Total number of protons in the nucleus is called the atomic number of the atom and is given the symbol Z. The total electrical charge of the nucleus is therefore +Ze, where e (elementary charge) equals to 1,602 x 10-19 coulombs.
The total number of neutrons in the nucleus of an atom is called the neutron number of the atom and is given the symbol N. Neutron number plus atomic number equals atomic mass number: N+Z=A. The difference between the neutron number and the atomic number is known as the neutron excess: D = N – Z = A – 2Z.
For stable elements, there is usually a variety of stable isotopes. Isotopes are nuclides that have the same atomic number and are therefore the same element, but differ in the number of neutrons. Mass numbers of typical isotopes of Bromine are 79; 81. 
Main Isotopes of Bromine
Bromine occurs in only 2 natural isotopes: 79Br and 81Br.
Bromine-79 is composed of 35 protons, 44 neutrons, and 35 electrons.
Bromine-81 is composed of 35 protons, 46 neutrons, and 35 electrons.
Electrons and Electron Configuration
The number of electrons in an electrically-neutral atom is the same as the number of protons in the nucleus. Therefore, the number of electrons in neutral atom of Bromine is 35. Each electron is influenced by the electric fields produced by the positive nuclear charge and the other (Z – 1) negative electrons in the atom.
Since the number of electrons and their arrangement are responsible for the chemical behavior of atoms, the atomic number identifies the various chemical elements. The configuration of these electrons follows from the principles of quantum mechanics. The number of electrons in each element's electron shells, particularly the outermost valence shell, is the primary factor in determining its chemical bonding behavior. In the periodic table, the elements are listed in order of increasing atomic number Z.
Electron configuration of Bromine is [Ar] 3d10 4s2 4p5.
Possible oxidation states are +1,3,5/-1.
Most Common Application of Bromine
Bromine is intermediate in reactivity between chlorine and iodine, and is one of the most reactive elements. A wide variety of organobromine compounds are used in industry. Some are prepared from bromine and others are prepared from hydrogen bromide, which is obtained by burning hydrogen in bromine. Brominated flame retardants represent a commodity of growing importance, and make up the largest commercial use of bromine. For example, Polybrominated diphenyl ethers or PBDEs, are a class of organobromine compounds that are used as flame retardants.
Summary
| | |
| --- | --- |
| Element | Bromine |
| Number of protons | 35 |
| Number of neutrons (typical isotopes) | 79; 81 |
| Number of electrons | 35 |
| Electron configuration | [Ar] 3d10 4s2 4p5 |
| Oxidation states | +1,3,5/-1 |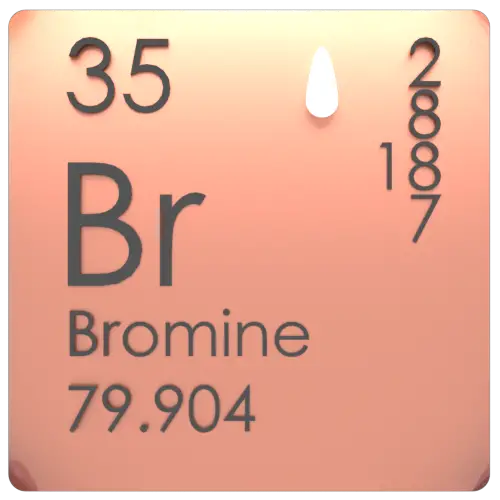 Source: www.luciteria.com