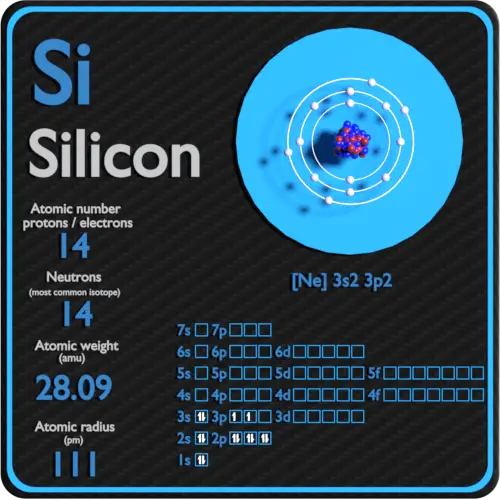 Silicon is a hard and brittle crystalline solid with a blue-grey metallic lustre, it is a tetravalent metalloid and semiconductor. Most silicon is used industrially without being purified, and indeed, often with comparatively little processing from its natural form. Hyperpure silicon metal and doped hyperpure silicon (doping with boron, phosphorous, gallium, or arsenic) are used in solar cells, transistors and semiconductors.
Silicon of 96–99% purity is made by reducing quartzite or sand with highly pure coke. The reduction is carried out in an electric arc furnace.
Protons and Neutrons in Silicon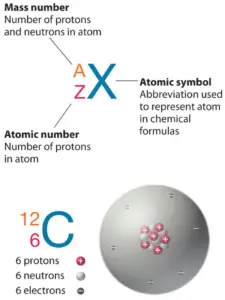 Silicon is a chemical element with atomic number 14 which means there are 14 protons in its nucleus. Total number of protons in the nucleus is called the atomic number of the atom and is given the symbol Z. The total electrical charge of the nucleus is therefore +Ze, where e (elementary charge) equals to 1,602 x 10-19 coulombs.
The total number of neutrons in the nucleus of an atom is called the neutron number of the atom and is given the symbol N. Neutron number plus atomic number equals atomic mass number: N+Z=A. The difference between the neutron number and the atomic number is known as the neutron excess: D = N – Z = A – 2Z.
For stable elements, there is usually a variety of stable isotopes. Isotopes are nuclides that have the same atomic number and are therefore the same element, but differ in the number of neutrons. Mass numbers of typical isotopes of Silicon are 28; 29; 30.
Main Isotopes of Silicon
Naturally occurring silicon is composed of three stable isotopes, 28Si (92.23%), 29Si (4.67%), and 30Si (3.10%). Out of these, only 29Si is of use in NMR and EPR spectroscopy, as it is the only one with a nuclear spin (I = 1/2).
Silicon-28 is composed of 14 protons, 14 neutrons, and 14 electrons.
Silicon-29 is composed of 14 protons, 15 neutrons, and 14 electrons.
Silicon-30 is composed of 14 protons, 16 neutrons, and 14 electrons.
Electrons and Electron Configuration
The number of electrons in an electrically-neutral atom is the same as the number of protons in the nucleus. Therefore, the number of electrons in neutral atom of Silicon is 14. Each electron is influenced by the electric fields produced by the positive nuclear charge and the other (Z – 1) negative electrons in the atom.
Since the number of electrons and their arrangement are responsible for the chemical behavior of atoms, the atomic number identifies the various chemical elements. The configuration of these electrons follows from the principles of quantum mechanics. The number of electrons in each element's electron shells, particularly the outermost valence shell, is the primary factor in determining its chemical bonding behavior. In the periodic table, the elements are listed in order of increasing atomic number Z.
Electron configuration of Silicon is [Ne] 3s2 3p2.
Possible oxidation states are -4; ..; +4.
It is a member of group 14 in the periodic table: carbon is above it; and germanium, tin, and lead are below it. It is relatively unreactive. Crystalline bulk silicon is rather inert, but becomes more reactive at high temperatures. Like its neighbour aluminium, silicon forms a thin, continuous surface layer of silicon dioxide (SiO2) that protects the metal from oxidation.
Most Common Compound of Silicon
Silicon is most widely distributed in space in cosmic dusts, planetoids, and planets as various forms of silicon dioxide (silica) or silicates. More than 90% of the Earth's crust is composed of silicate minerals, making silicon the second most abundant element in the Earth's crust (about 28% by mass), after oxygen. The most common compound of silicon is quartz. Quartz is a chemical compound consisting of one part silicon and two parts oxygen. It is silicon dioxide (SiO2). The atoms are linked in a continuous framework of SiO4 silicon-oxygen tetrahedra, with each oxygen being shared between two tetrahedra, giving an overall chemical formula of SiO2.
Summary
| | |
| --- | --- |
| Element | Silicon |
| Number of protons | 14 |
| Number of neutrons (typical isotopes) | 28; 29; 30 |
| Number of electrons | 14 |
| Electron configuration | [Ne] 3s2 3p2 |
| Oxidation states | -4; ..; +4 |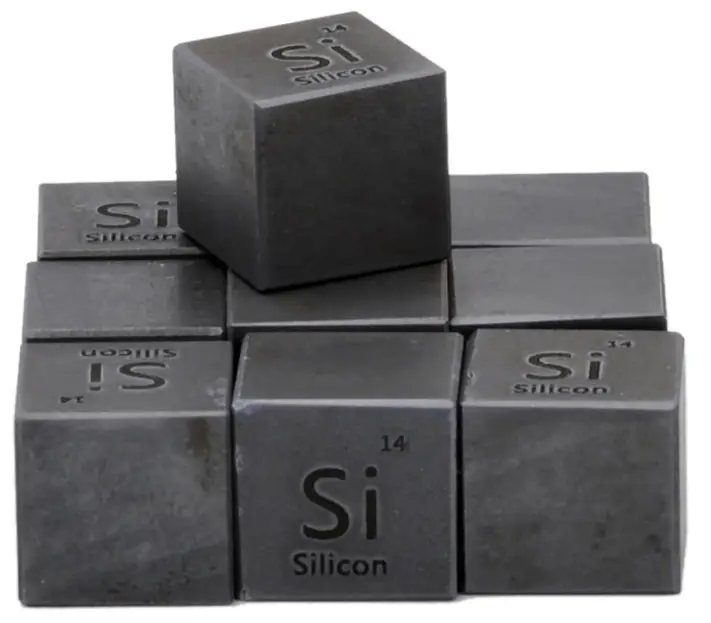 Source: www.luciteria.com