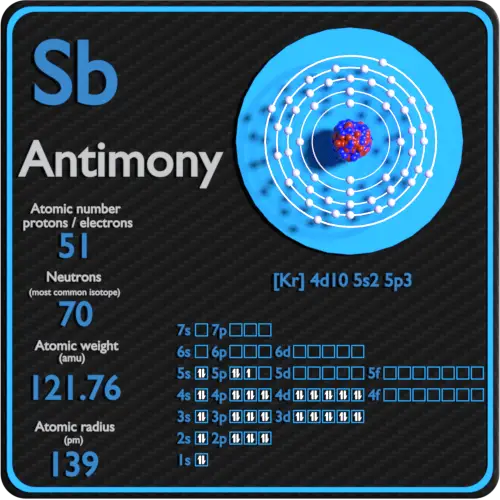 Antimony is a lustrous gray metalloid, it is found in nature mainly as the sulfide mineral stibnite. Antimony compounds have been known since ancient times and were powdered for use as medicine and cosmetics, often known by the Arabic name, kohl.
Protons and Neutrons in Antimony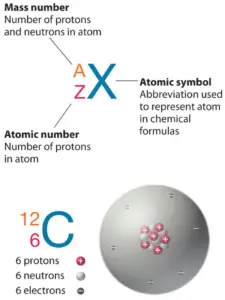 Antimony is a chemical element with atomic number 51 which means there are 51 protons in its nucleus. Total number of protons in the nucleus is called the atomic number of the atom and is given the symbol Z. The total electrical charge of the nucleus is therefore +Ze, where e (elementary charge) equals to 1,602 x 10-19 coulombs.
The total number of neutrons in the nucleus of an atom is called the neutron number of the atom and is given the symbol N. Neutron number plus atomic number equals atomic mass number: N+Z=A. The difference between the neutron number and the atomic number is known as the neutron excess: D = N – Z = A – 2Z.
For stable elements, there is usually a variety of stable isotopes. Isotopes are nuclides that have the same atomic number and are therefore the same element, but differ in the number of neutrons. Mass numbers of typical isotopes of Antimony are 121, 123. 
Main Isotopes of Antimony
Antimony occurs in 2 natural isotopes: 121Sb and 123Sb. 121Sb is the most common isotope, having a natural abundance of approximately 57%.
Antimony-121 is composed of 51 protons, 70 neutrons, and 51 electrons.
Antimony-123 is composed of 51 protons, 72 neutrons, and 51 electrons.
Electrons and Electron Configuration
The number of electrons in an electrically-neutral atom is the same as the number of protons in the nucleus. Therefore, the number of electrons in neutral atom of Antimony is 51. Each electron is influenced by the electric fields produced by the positive nuclear charge and the other (Z – 1) negative electrons in the atom.
Since the number of electrons and their arrangement are responsible for the chemical behavior of atoms, the atomic number identifies the various chemical elements. The configuration of these electrons follows from the principles of quantum mechanics. The number of electrons in each element's electron shells, particularly the outermost valence shell, is the primary factor in determining its chemical bonding behavior. In the periodic table, the elements are listed in order of increasing atomic number Z.
Electron configuration of Antimony is [Kr] 4d10 5s2 5p3.
Possible oxidation states are +3,5/-3.
Most Common Application of Antimony
The largest applications for metallic antimony are alloys with lead and tin and the lead antimony plates in lead–acid batteries. In lead–acid batteries, this addition improves plate strength and charging characteristics.
Summary
| | |
| --- | --- |
| Element | Antimony |
| Number of protons | 51 |
| Number of neutrons (typical isotopes) | 121, 123 |
| Number of electrons | 51 |
| Electron configuration | [Kr] 4d10 5s2 5p3 |
| Oxidation states | +3,5/-3 |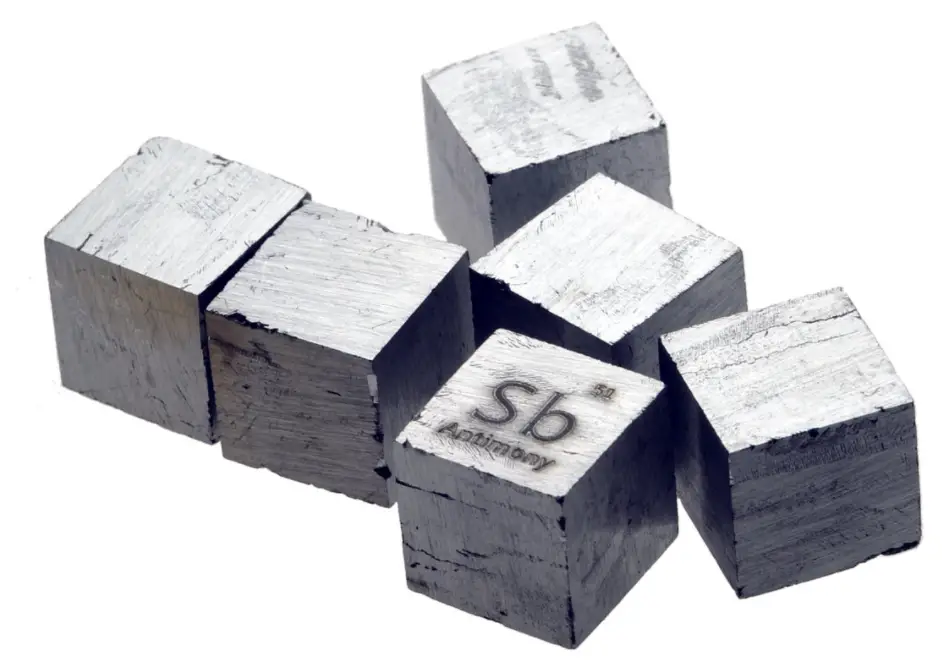 Source: www.luciteria.com