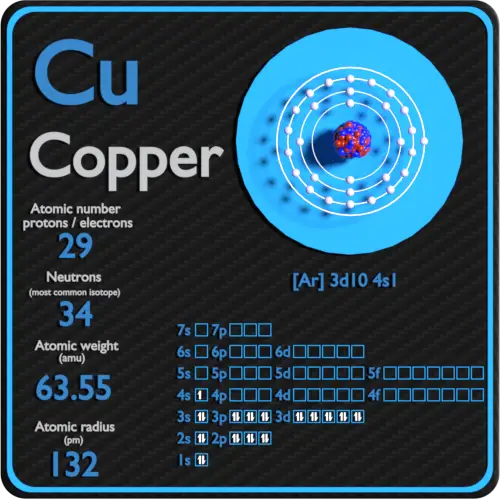 Copper is a soft, malleable, and ductile metal with very high thermal and electrical conductivity. A freshly exposed surface of pure copper has a reddish-orange color.
The major applications of copper are electrical wire (60%), roofing and plumbing (20%), and industrial machinery (15%). Copper is used mostly as a pure metal, but when greater hardness is required, it is put into such alloys as brass and bronze (5% of total use).
Most copper is mined or extracted as copper sulfides from large open pit mines in porphyry copper deposits that contain 0.4 to 1.0% copper.
Protons and Neutrons in Copper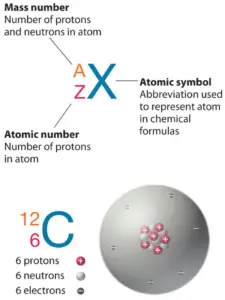 Copper is a chemical element with atomic number 29 which means there are 29 protons in its nucleus. Total number of protons in the nucleus is called the atomic number of the atom and is given the symbol Z. The total electrical charge of the nucleus is therefore +Ze, where e (elementary charge) equals to 1,602 x 10-19 coulombs.
The total number of neutrons in the nucleus of an atom is called the neutron number of the atom and is given the symbol N. Neutron number plus atomic number equals atomic mass number: N+Z=A. The difference between the neutron number and the atomic number is known as the neutron excess: D = N – Z = A – 2Z.
For stable elements, there is usually a variety of stable isotopes. Isotopes are nuclides that have the same atomic number and are therefore the same element, but differ in the number of neutrons. Mass numbers of typical isotopes of Copper are 63; 65. 
Main Isotopes of Copper
There are 29 isotopes of copper. 63Cu and 65Cu are stable, with 63Cu comprising approximately 69% of naturally occurring copper; both have a spin of ​3⁄2.
62Cu and 64Cu have significant applications. 62Cu is used in 62Cu-PTSM as a radioactive tracer for positron emission tomography.
Copper-63 is composed of 29 protons, 34 neutrons, and 29 electrons.
Copper-65 is composed of 29 protons, 36 neutrons, and 29 electrons.
Electrons and Electron Configuration
The number of electrons in an electrically-neutral atom is the same as the number of protons in the nucleus. Therefore, the number of electrons in neutral atom of Copper is 29. Each electron is influenced by the electric fields produced by the positive nuclear charge and the other (Z – 1) negative electrons in the atom.
Since the number of electrons and their arrangement are responsible for the chemical behavior of atoms, the atomic number identifies the various chemical elements. The configuration of these electrons follows from the principles of quantum mechanics. The number of electrons in each element's electron shells, particularly the outermost valence shell, is the primary factor in determining its chemical bonding behavior. In the periodic table, the elements are listed in order of increasing atomic number Z.
Electron configuration of Copper is [Ar] 3d10 4s1.
Possible oxidation states are +1,2.
Copper forms a rich variety of compounds, usually with oxidation states +1 and +2, which are often called cuprous and cupric, respectively. Copper compounds, whether organic complexes or organometallics, promote or catalyse numerous chemical and biological processes.
Most Common Alloy of Copper
Electrolytic tough pitch copper, UNS C11000, is pure copper (with a maximum of 0.0355% of impurities) refined by electrolytic refining process and it is the most widely used grade of copper all over the world. ETP has a minimum conductivity rating of 100% IACS and is required to be 99.9% pure. It has 0.02% to 0.04% oxygen content (typical). Electrical wiring is the most important market for the copper industry. This includes structural power wiring, power distribution cable, appliance wire, communications cable, automotive wire and cable, and magnet wire.
Summary
| | |
| --- | --- |
| Element | Copper |
| Number of protons | 29 |
| Number of neutrons (typical isotopes) | 63; 65 |
| Number of electrons | 29 |
| Electron configuration | [Ar] 3d10 4s1 |
| Oxidation states | +1,2 |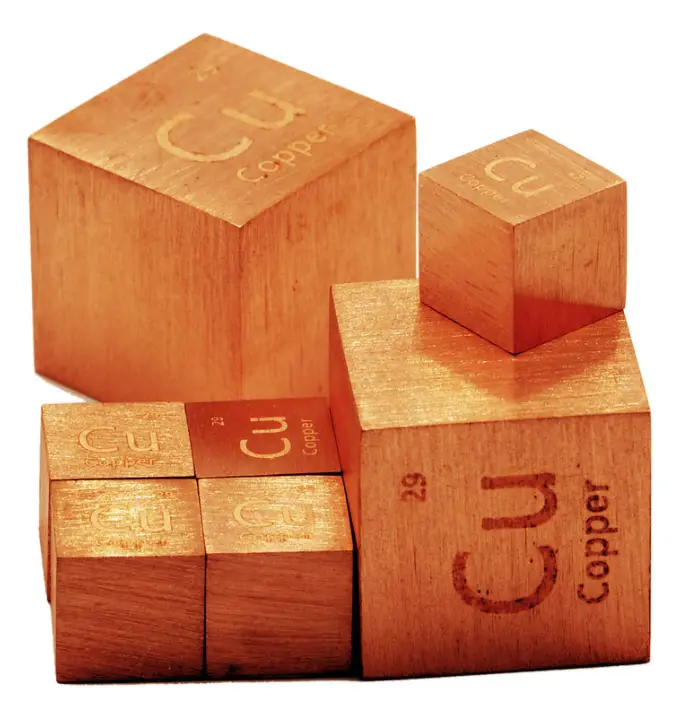 Source: www.luciteria.com